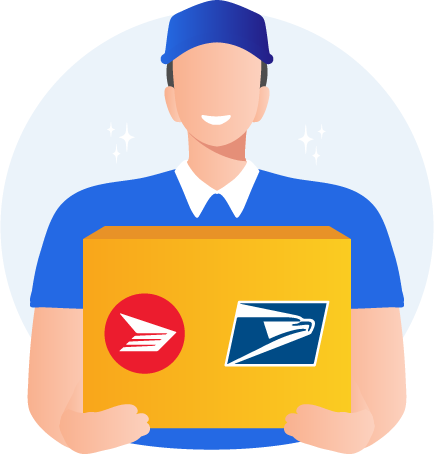 US Postage Rates from Canada 2022
Many Canadian businesses are required to send mail to the US for various reasons. Ecommerce businesses that sell to US customers need to send mail on a daily basis. A lot of Canadian companies depend on the US market for their survival. Moreover, it is the first international market that they enter.
Even a lot of individuals send mail to Canada, which is why Canada Post and several other courier service companies provide affordable and fast shipping to the US. There are several shipping options provided by Canada Post to ship to the US – as per your budget and availability of time.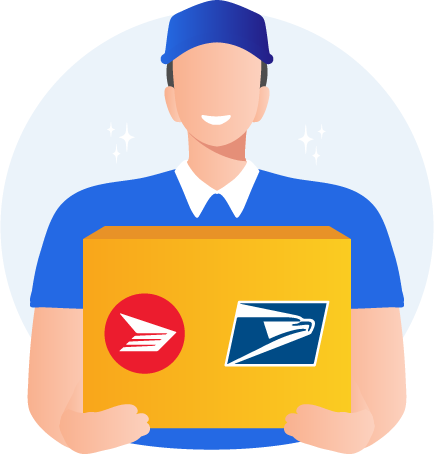 All national and international rates differ according to the size and weight of your mail. Furthermore, you need to see that all your mail items fit within the stated dimensions. This step can help you save a lot on the US postage rates and control the overall mailing costs. You can check the Canada Post definition of standard and non-standard mail so that you have an idea of your mail type and the available mailing options to ship it to the US.
Postage Rates for Standard and Non-Standard Size Mail
Standard Size Mail
Letter envelopes, standard cards, and postcards are considered standard-size mail by Canada Post. Direct mail marketers widely use this type of mail to send to their target audience. However, for sending these mail items, the dimensions should be strictly taken into consideration.
For self-mailers and envelopes, the minimum dimensions are 140mm x 90mm x 0.18mm. The size should not be more than 245mm x 156mm x 5mm.
Postcards and other cards should meet the minimum dimensions of 140mm x 90mm x 0.18mm, which is the same as envelopes but should be no more than 235mm x 120mm.
All standard-size mail items should be equal to or less than 50 kg. Let's move on to the rates of standard-size mail items to ship to the US.
If you are using stamps, the postage rates to the US start at $1.30. This rate is applicable only for mail weighing up to 30 grams or consisting of up to 5 paper sheets. Postcards and letter envelopes weigh between 30 to 50 grams or consist of up to 9 paper sheets. They're charged $1.94.
Anything weighing more than 50 grams is considered non-standard mail and charged differently. Even letters and postcards that weigh more than 50 grams slightly will be charged according to the non-standard mail pricing.
If you are planning to conduct a direct mail marketing campaign using postcards to target your US audience, take care of the size and weight guidelines. Even small mistakes regarding the dimensions can end up in you paying much more than what you originally planned. It is better that you use metered postage or postal indicia as it can help you save one cent on every mail item.
The rates to send standard size mail using metered postage are $1.29 and $1.94 respectively for mail weighing up to 30 grams and within 30 to 50 grams.
Non-Standard Size Mail
Non-standard size mail is basically either oversized or unusually shaped mail. However, there are still weight and size restrictions for sending non-standard mail. Heavy cards, oversize envelopes, and large documents are sent as non-standard mail.
Usually, envelopes consisting of more than one mail item or heavier items like catalogues or bundles of newsletters are sent using this mail option.
The weight of your mail should be more than 50 grams and not exceed 500 grams.
140mm x 90mm x 0.18mm are the minimum dimensions for sending oversize mail. The size should not cross over the specifications of 380mm x 270mm x 20mm.
For mail weighing between 50 to 100 grams – equivalent to the weight of 20 paper sheets, the rate is $3.19. You can save 18 cents by using the postal indicia option as the rate drops to $3.01. All mail items that cross 100 grams but are equal to or less than 200 grams – equivalent to the weight of 40 paper sheets are charged $5.57 for shipping to all locations across the US. Once more, you can save 13 cents on every mail item if you use postal indicia or metered postage.
Coming to mail that weighs between 200 grams and 500 grams – the postage rates to the US are $11.14 and $10.85 for using metered postage and stamps, respectively. It is recommended that you use metered postage for such heavy mail items as you can save 29 cents per mail item.
Bulk shippers can really benefit from this and cut down costs drastically. There are additional discounts available for bulk shippers. You can contact the Canada Post website for more details on highly discounted rates for sending bulk mail to the US.
Canada Post Parcel Services
If your mail weighs more than 500 grams, you can use the parcel services provided by Canada Post. There are four mailing options to send your parcels to US destinations. Find below the details and postage rates from Canada to the US for shipping your parcels.
1. Priority Worldwide
The priority worldwide mailing option offered by Canada Post is similar to the global express guaranteed mailing service provided by the USPS. It is the fastest mailing option if you need your parcels to be delivered urgently to US destinations or other countries. The delivery of your parcels using priority worldwide to most US states can be completed the very next day.
Delivery to the remaining US states and other countries is completed within a span of 2 to 3 days. Canada Post uses the FedEx network for international deliveries. Canada Post offered various complimentary services like on-time delivery, tracking, recipient's signature, and customs clearance under this mailing option. There is also a money-back guarantee, in case your mail is not delivered on time.
The postage rates to the US under priority worldwide mailing service are subject to the place of destination and the weight of your parcel. The maximum weight of your parcel should not exceed 30 kg. The rate to ship a parcel weighing up to 500 grams starts at $65.18 – which is the lowest rate to send a parcel to the US using the priority worldwide mail option.
For the next 500 grams, a rate of $6.14 is added, which means the price of mailing a parcel weighing between 500 grams and 1 kg starts at $71.33. For mail weighing within 1 to 1.5 kg, the rate increases to $84.38. With every 500 grams, the rate increases with an amount that changes with every weight range. For sending a mail that weighs 30 kg – the maximum weight allowed, the rate starts at $437.85.
2. Xpresspost
With the Xpresspost mailing option, you can expect fast and affordable deliveries across the US. Canada Post takes between 2 to 3 business days for delivering your parcel to US destinations using this mail option. The added features include tracking, insurance coverage of up to $100, on-time delivery subject to certain terms and conditions, and the recipient's signature at the time of delivery. Moreover, you can drop your parcel in a post office box, rather than going to the post office. The mail will be returned to you for an additional fee in case of a delivery failure.
The rate starts at $26.37 for a mail weighing up to 500 grams. For anything between 500 grams and 1 kg, the rate starts at $33.82. The US postage rates slightly keep increasing with every additional 500 grams. Your parcels weighing up to 1.5 kg will cost you a minimum of $34.91. The maximum weight allowed is 30 kg, the cost of which starts at $192.06.
3. Expedited Parcel
If your mail is not time-sensitive and you are looking for a very cheap mailing option to send your parcels to the US, the expedited parcel option is the best choice for you. It is ideal for sending a parcel under 66 lb or 30 kg. Delivery updates, tracking, and insurance of $100 are all included in its postage rates to the US. The estimated delivery time is between 4 to 7 business days.
The return to sender feature is optional and can be availed for an extra charge. For sending parcels to US locations using the expedited parcel option, the postage rate starts at $20.35. Like other mailing options, the rates depend entirely on the origin and destination country and your parcel's weight.
The rate of $20.35 mentioned above is for the first 500 grams. For mail weighing between 500 grams and 1 kg, the postage starts at $22.24. If your parcel is between 1 to 1.5 kg, the rate starts at $24.03.
In case your mail weighs between 29.5 to 30 kg, the postage rates from Canada to the US start at $119.34. These prices are much more affordable than the priority worldwide and Xpresspost mail options, so you should look into it if you are looking for a cheaper mailing option.
4. Tracked Packet
The tracked packet option also ships your parcel within 4 to 7 business days like the expedited parcel option. However, the main difference is that you can avail of it for lower costs. These low US postage rates are fixed according to your parcel's weight, which is not supposed to be over 2 kg. Small and lightweight parcels can be sent affordably using the tracked packet mailing option. A $100 insurance coverage, tracking, and easy customs clearance are the additional benefits that come along with the postage paid.
The postage rates to the US under the tracked packet option are the same for all US countries, unlike the other mailing options mentioned above. For parcels weighing up to 100 grams, the rate is fixed at $13.36. If you need to send a mail weighing over 100 grams but equal to or less than 250 grams – the postage that you need to pay is $17.08.
The US postage rates for mail weighing between 250 to 500 grams and 500 grams to 1 kg are $18.77 and $21.51, respectively. For small parcels that cross 1 kg but are up to 1.5 kg, the postage is $24.19. The last weight range is between 1.5 and 2 kg, wherein the required postage is $26.84.
5. Small Packet
Parcels that weigh less than or equal to 2 kg can be sent using the small packet option. This option is the same as the tracked packet option, but the delivery time frame is within 5 to 8 days – for which the costs get cheaper. If you can wait for around 2 to 3 days more for your mail delivery, you can use this option and save.
However, you should also note that there are no tracking and insurance features available. All parcels mailed using the small packet service are sent via air.
The prices for all US countries are the same; the price variations depend only on the weight. For parcels up to 100 grams, the rate is as low as $7.74. It gradually increases to $9.48, $12.43, and $18.27 for parcels weighing between 100 to 250 grams, 250 to 500 grams, and 500 grams to 1 kg, respectively.
Parcels weighing more than 1 kg but less than or equal to 1.5 kg are charged $21.35. Nominal postage of $23.97 is charged for parcels weighing between 1.5 to 2 kg.
Conclusion
Shipping to the US is actually a very easy process. Both the USPS and Canada Post provide affordable rates to mail across both countries. Furthermore, the US market and the Canadian market are connected in more ways than one.
As discussed above, having reliable mailing options and cost-effective US postage rates is much needed by Canadian customers. Other than business, individuals also need to send mail across the border to connect with their known ones.
Canada Post allows you to send letters, postcards, parcels, and other items to the US, irrespective of their type and size. However, lookup for the restricted mail items before sending anything as some things cannot be sent by mail due to several reasons.
PostGrid's print and mail network assists you in drafting, printing, and mailing various standard and non-standard mail items like letters, postcards, large-size documents, catalogues, checks, and more.