Seamless Direct Mail API
Engage new leads and bolster your B2B  relationship with PostGrid's easy-to-integrate direct mail API. You can incorporate our API without wondering about how to create user interface functions – like building a template or creating a product to measure and record data analytics.
Integrated Solution – Direct mail printing and delivery with easy API Integration
Forge and foster simplified offline communication and relationship with the customer yielding long-term benefits with PostGrid API. Get rid of the burden of importing a direct mail list or creating an intricate campaign with PostGrid – we help you automate the connection with our API.
All-in-One Direct Mail API
Create, Automate, Send & Track your direct mail and printing with our Unified API
REQUEST A DEMO
What is a Direct Mail API?
What are the benefits of Direct Mail API?
PostGrid's API has the following benefits:
Complete Automation
With our API, you can automatically input data in real-time, which will get triggered and send direct mail automatically to the intended recipient as per the information you've fed. It helps you line up the event-based direct mail and minimize the possibility of forgetting to mail your important clients and customers, meanwhile affecting your relationship.  Plus, automated direct mail adds value to the customer's purchase cycle and enhances your business's credibility.
Ensures Safety
Safety is our primary concern, so we ensure that every transaction keeps the confidentiality of the information and data thus shared, and it's secured with its integrity intact. By incorporating API, we make sure that every communication happens with a secure API key, which is required to authenticate the process. Every direct mail request made through API will need a key to guarantee data safety and security.
Build a relationship with customers
With automation taking care of the repetitive tasks and giving you the freedom to personalize your direct mail, we'll help you forge and foster long-term relationships with clients and customers. API automation leads to the consistent delivery of direct mail, which increases customer lifetime value. Regular mail will keep your customers updated with the offerings and discounts, which they might enquire about, and will result in building a good relationship with them.
Boosts Customer Engagement
With trigger-based automated direct mail, PostGrid will ensure that your target customer receives the notification of your products and services as and when it is required. It'll make the customer feel valued, and they'll engage with your brand more consistently. Furthermore, it'll help you build a strong and loyal customer base that will eventually become your brand ambassador.
Proactive Approach
With PostGrid's API automation, you can launch a direct mail advertising campaign after thorough testing, which will help you identify and resolve any problem before you plan on executing. It'll save significant time, money, and resources that you might end up putting into before getting campaign reports.
Enrich Customer Experience
Direct mail can increase your brand awareness, engagement, and customer retention, but the desired impact gets hampered by manual processing. With no manual job increasing the probability of errors and delay, our PostGrid API automation will provide a seamless experience to your customer with the set trigger delivery of relevant direct mail at the right time.
Facilitates Easy Tracking
Using direct mail marketing campaigns with CRM integration empowers your business to track real-time progress from your dashboard. Further, it provides you with the needed analytics and data insights on your campaign performance and helps you understand customer shopping behaviour to strategize better.
Complete Control
With direct mail automation, you no longer have to rely on the staff or wait for them to be done coordinating with different teams and completing their respective tasks. You have full control of the direct mail campaign, which, depending upon the requirement, you can carry out at a scale that you want to with API facilitating automating.  
Cost-Effective
API automation might sound like an expensive investment. But, if you calculate the resources, time, money, and employee potential you'll invest when choosing in-house services, you'll find that an API-based direct mail marketing solution provider is a better and cheaper option available. That's why it's always a cost-effective decision to choose an API-based platform for long-term benefits.
Also Read: Print & Mail API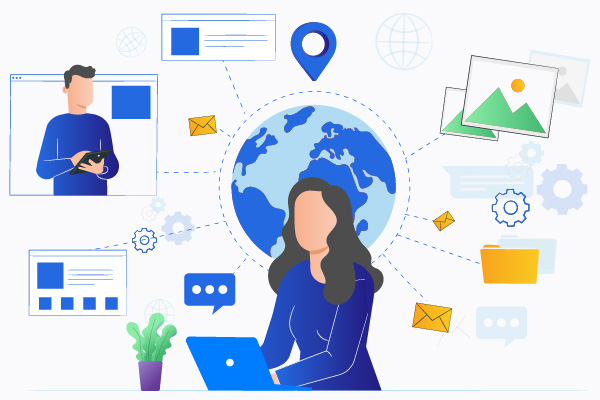 How does a direct mail API work?
Direct mail API works by integrating direct mail software with your existing CRM. The prospects, clients, and customers' names and addresses are fetched and imported directly into the campaigns.
All you have to do is customize a marketing or transactional collateral, be it a letter, or postcard and set up a trigger in your CRM platform for automating direct mail marketing campaign.
Enhance your business's growth with our API's easy integration to significantly improve your business's visibility with increased data accessibility.
Also Read: Thank You Letter/Cards for Customers
All-in-One Direct Mail API
Create, Automate, Send & Track your direct mail with our Print & Mail API
REQUEST A DEMO
What are the features of direct mail API?
Direct Mail Integration
PostGrid API allows for easy software integration with your existing CRM, website, or software. The names and addresses of the prospects, clients, and customers are imported to the direct mail marketing campaign. With PostGrid, you have the freedom to import contacts directly into your dashboard and create unlimited campaigns. It minimizes the possibility of manual error and ensures that the right mail reaches the right audience.
On-demand Solution
With PostGrid's direct mail API and CRM integration, you can leverage the benefits of direct mail campaigns on demand. From printing to mailing, we render on-demand API-driven direct mail marketing solutions.
No minimum requirement
We have a "no minimum requirement "policy,  so whether you want to get a single piece or have a bulk mailing demand, PostGrid has got you covered. We will deliver your requirement, regardless of the quantity, without compromising on quality, data security, and timing, ensuring you get the right message conveyed to the intended recipient.
Personalization
With API  facilitating CRM integration, you have the time and freedom to customize your direct mail campaign according to your business needs — the prospects you're trying to connect with, the clients you want to engage, and the customers you plan to retain. Automation will leave you with more time to come up with creative and impactful direct mail for the intended audience.
Easy deployment
All you have to do is create and customize a postcard, a letter, or a brochure according to your target audience with our in-built editor. Then, setting up and executing direct mail marketing campaigns will be an easy task that you can regulate from your dashboard.
Reporting
Get periodic, downloadable reports about your direct mail campaign performance with our automated tools, gain data insights and prepare for your future campaigns more strategically.
To know more about how PostGrid automated direct mail services and direct mail API can help you improve your ROI, reach out to our representative.
Ready to Get Started?
Start transforming and automating your offline communications with PostGrid
SIGN UP
REQUEST A DEMO