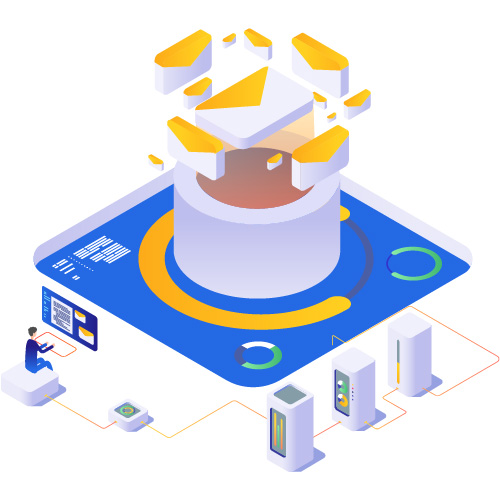 Automated Direct Mail: What is it and How it Works?
Did you know that the open rate of direct mail is 60% more than emails, and a whopping 58% of millennials find paper-based advertising less intruding into their privacy than its digital contemporaries?
Yes, direct mail still rules a significant percentage of the marketing arena.
But the traditional direct mail process is cumbersome, requires a massive investment of time and money, and makes for an unproductive way of channelling employees' potential.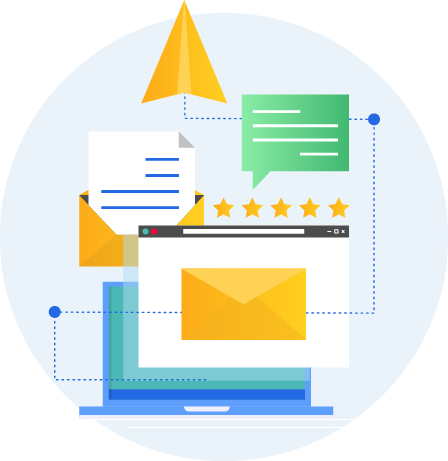 Remember the time when you had your entire staff haphazardly coordinating and working on creating the perfect direct mail?
Or
When your employees had to run back and forth to the post office to send stacks of direct mail to your clients?
So how do we leverage the benefits of direct mail without draining our crucial resources?
Well, forget about all the confusion and unorganized workflow with PostGrid's direct mail automation solution.
Automation has revolutionized every industrial sector, and marketing hasn't been untouched by its powerful impact.
What is Direct Mail Automation or Automated Direct Mail?
In one sentence, we can say that direct mail automation makes sending physical mail as easy as sending an email.
Software As A service tool (SaaS), direct mail automation streamlines and simplifies the entire creation, design, planning, packaging, and immediate mail delivery.
It automates the earlier performed mundane and repetitive tasks like creating and printing direct mails manually, which was highly prone to error and led to immense wastage of time, money, and resources.
The technology and data-driven features of direct mail automation make it a valuable business tool. Some of which are:
Editing tools
Scalability
Integration facility
Cloud-based processing
Customization tools
Event-based options
By using direct mail software with an automation platform, you can automate the entire process, thereby:
Minimize the possibility of error or duplication
Save time
Save money
Enhance workforce efficiency
Increase production
Allow quick processing
Timely delivery
What are the Benefits of Direct Mail Automation?
As mentioned earlier, direct mail automation software equips you with the latest tools and technology to streamline and simplify your business operation, deliver quality results, and garner higher revenue.
Let's dive deep into all your business's benefits after incorporating a direct automation solution into your system:
Save Time
When your in-house team earlier wasted on stocking the inventory with printing and designing supplies or making regular trips to the post office, it must have had to struggle for tiny details.
However, with professional direct mail automation software, you can eliminate all these tasks. The entire process of designing, printing, and launching direct mail campaigns will be automated. And eventually, free your workforce from repetitive tasks, giving them more time and energy to concentrate on their professional growth and investing their business development potential. Direct mail automation will empower you to send tangible copies quickly, efficiently, and cost-effectively.
Personalization
Do you want to increase your brand awareness and develop long-term relationships with your clients? Personalization is the way to go. The audience connects with the brand that addresses and provides solutions to their specific pain points.
With automation saving you significant time and money, you have the freedom to get your creative mojos on and tailor the direct mail to relate to your target audience. Personalized automated direct mail will exponentially increase the response rate and customer retention.
Save Resources
Traditional or manual direct print and mail is a tedious process that required extensive investment of expensive resources, including your employee's potential. But with direct mail automation, the entire operation of designing, printing, and mailing will be done with just a few clicks. No need to worry about printing supplies and inventory management with direct mail automation.
Mailing Accuracy
Direct automation software comes with seamless CRM integration characteristics that fetch the address from your business's existing database and create a bundled mail list or directly add the address to the direct mail campaign. This step ensures that you're sending every mail to the right address. One wrong mail to the client can jeopardize your relationship and the possibility of conducting future business.
Event-based Mails
Automation gives you the power to create trigger-based direct mail that you can send to customers and clients at the right time. For example, suppose you're offering discounts at an upcoming festival. You can customize and automate direct mail for a particular event and set a trigger to launch the campaign on the set date. Triggered direct mail boosts the retention and response rate.
Optimized
Manually getting the printing and mailing done will waste the resources you could have invested in developing a strong marketing strategy. With direct mail automation, all you have to do is customize a direct mail, and click on send. The printing and fetching mail address for the proper delivery would be a direct mail automation software job.
Quick and Efficient
Automating direct mail will eliminate all the work that goes into planning, designing, and launching a direct mail campaign. It makes direct printing and mailing a quicker process without any manual interference.
Automate Anything
Not just direct mail, but with direct mail automation software in place, you can automate any process from designing and printing to launching a successful direct mail campaign without draining any resources or burning a hole in your pocket.
Trackable
You can track the performance of your direct mail campaign by either adding a QR code to it or with a trackable link that will provide you with insights into the feedback from the audience. The data will further help you create better strategies for improvement.
What are the Different Types of Direct Mail that Can Be Automated to Help Your Business?
Depending upon your business's target market, purpose, and budget, you can choose different direct mails and get significant benefits by automating your tailored messages' mailing process.
We'll look at some of the most prevalent direct mails in the market. Automate and execute one of these to leave a lasting impression on the intended recipient and simplify your mailing process:
Send premium quality personalized letters to convey your gratitude to the consumers with a quick and easy automated letter printing and mailing solution.
Broaden your marketing reach and boost lead generation with personalized and automated flyer printing and mailing solutions in a cost-effective manner.
Tell your consumers about the latest addition to your brand at the right time with automated brochure printing and mailing to keep your consumer engaged and establish brand authority.
Ensure customer engagement and better return on investment with automated postcard printing and mailing in a cost-effective yet efficient manner.
Ensure that your vendors and clients are paid on time for their services with automated cheque printing and mailing.
Compel your target audience to connect, engage, and purchase from your customized and automated catalogue printing and mailing.
Send out crisp and accurate statements at the right time to the correct address with automated statement printing and mailing solutions.
Build trust and strengthen your relationship with your clients by sending periodic invoices consistently through automated invoice printing and mailing solutions.
What Features of Direct Mail Automation Make it Worthy of Investment?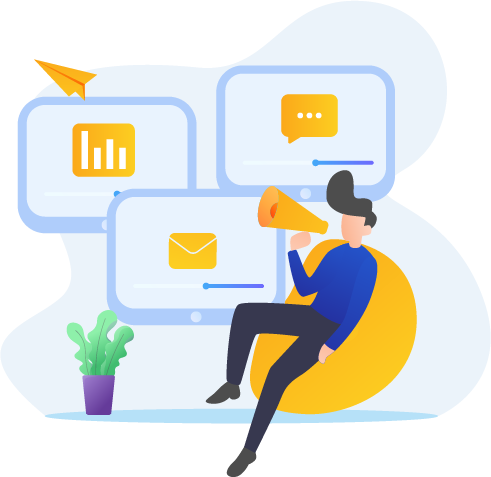 A direct mail automation tool will seamlessly integrate with your existing CRM, updated editing and personalization tools, and cloud-based processing to make sure you get a higher return on investment with an efficient workforce. Other reasons why you should consider a direct mail automation tool are:
No Manual Intervention
What makes direct mail sluggish and leads to low ROI is manual processing. Right from planning, designing, creating, printing, and launching a direct mail campaign, the traditional process demands everything done manually. It leads to errors, delays, and reduced productivity, so most companies prefer online marketing over this. But with automated direct mail, you can manage everything with a few clicks ensuring accuracy, timely delivery, and customer satisfaction.
CRM Integration
Direct mail automation allows seamless integration with your business's existing system and database without hampering its performance. The integration not only helps to build a mailing list but also empowers you with the ability to gain insights into the performance of your campaigns and optimize them according to the target audience's demands. Direct mail automation integration tools further provide you with the essential periodic reports and data for your reference.
Editing Tools
As mentioned earlier, customizing campaigns have an emotional appeal that makes consumers feel valued and encourages them to take action. Traditionally editing and customizing is a tedious task that goes on for weeks. How?
Once the design is customized, you need to send it to the owner for approval, revise it according to the feedback, and repeat this process several times until you get the final layout done. It leads to a massive waste of time, which you can otherwise use more productively. The direct mail automatic tool comes with an in-built editor and a bundled editor. Automated mailing solution makes it easy to use by employees who come from technical and non-technical backgrounds.
Mailing List
Direct mail automation makes it easy for your business to get data from the existing database for building mailing lists. So, you get notified about whether the intended recipient got the right gift at the correct mailing address or not. It further helps you add value to the consumers' lives, depending upon the insights you get, so you can work on the gaps and gain a competitive advantage over others.
Scalability
Whether it was planning to create and design limited pieces in the copy or thinking of bulk generation, earlier scaling direct mail advertisements was difficult. But with automated direct mail campaigns, you can execute direct mail at any scale — a single piece or a hundred copies — thereby minimizing the logistics spending cost-effectively and efficiently. This step will save your time and money, which you can invest in building healthy relationships with the customer.
Triggered Mailing
With direct mail automation, you can enable triggered mailing campaigns. You can send more accurate and appealing direct mails to your target audience and make them feel valued. This activity will significantly impact the conversion rate by boosting brand awareness and customer engagement.
Who Can Benefit from Direct Mail Automation?
Direct mail automation has benefits that are not just confined to a specific business. When executed strategically — keeping the target audience in mind — it can help businesses, despite their size, across industries to streamline and simplify their work process for heightened efficiency and better revenue generation in the most cost-effective manner possible.
Let's begin with the most asked and anticipated category:
The Small and Medium-Sized Businesses
It's important to note that small and medium-sized businesses manufacture products that supplement other products' applications. Unlike large corporations, their production volume is also low to medium, which directly means a low requirement for printed materials. Talking about their target audience, they have a comparatively smaller and highly specific customer base.
Furthermore, they lack the capital to hire industry experts to make sure that every campaign is executed flawlessly without backfiring. Neither can they afford to give these tasks to their underqualified staff that holds no expertise in marketing.
A minor mistake on your team's part could jeopardize your business's reputation, and we all know how much it takes for an SME to create their presence in this competitive landscape.
Direct mail automation can help you create a marketing strategy that you can use to target the users of your different products in a more personalized manner. You will be able to create from a wide range of templates available on the automation platform.

Direct mail automation will give you the power to strengthen your brand image and boost response rate, alongside eliminating any possibility of error with just a click.
Non-Profit Organizations
Now let's talk about non-profit organizations and how they can leverage from a direct automation tool.
Non-profit organizations' work effectiveness is defined by how well they can convey the information and message to their prospects, sponsors, and fundraisers. Their words hold the power to compel organizations, individuals, and philanthropists to contribute and help them bring the societal change they're aiming at. And that's why they need high-quality content on their direct mail to convince the intended recipient with a single read.
But the point of contention with the non-profit organizations is that it's hard to define the mails volume they need to send regularly. It entirely depends on how big the project is and the number of people you aim to reach out to.
With direct mail automation and integration, you can send direct mails to your target audience at the scale you wish to. If some projects require you to reach out to people of a specific destination or number, automated mail can do that for you.

You can generate the desired emotional response from your target audience in a personalized and cost-effective manner.
Large corporations relatively market on a large scale to different audiences for their wide range of products. Let's discuss how direct mail automation can benefit them.
Large Corporations
Large enterprises use direct mailing as a standard marketing practice and produce the prints in a massive amount. These organizations also manufacture different products hence launch various direct mail campaigns for each of the articles. Talking about their customers, large corporations serve thousands of users or even more.
Taking care of direct mail marketing manually for large corporations can be a tedious and erroneous task that reflects adversely on the enterprise's efficiency, productivity, and revenue generation.
But with direct mail automation, large corporations will be able to deliver quicker, faster, and premium quality marketing in a cost-effective manner.

As far as the diverse range of products is concerned, direct mail automation empowers you with the ability to choose from a wide range of different templates and personalize the mail according to the message you wish to convey to the specific target audience of the product.

Furthermore, optimization with CRM integration can help you send the right mail to the correct address, regardless of the volume. Direct mail automation can boost your mailing delivery rate so that you can send direct mails across the world in 2-3 days.
Now that you have learned how direct mail automation can help steer ahead of your business efficiently and cost-effectively, you can make an informed decision.
Why burden your in-house team or rely on an agency when you can have a PostGrid automation tool with both API and platform to streamline and simplify offline communication in a cost-effective manner?
Begin the journey of an efficient workflow and increased productivity with us today! Sign up now!