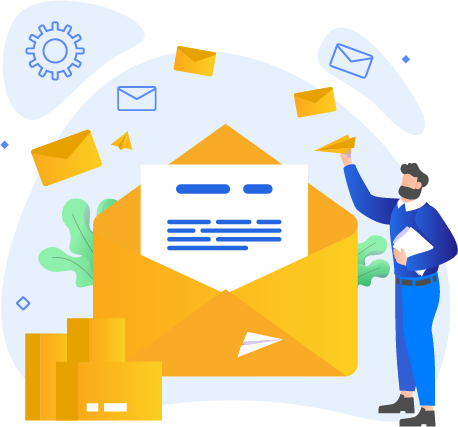 Bulk Mailing: What is Bulk Mail and Bulk Mailing Services
Bulk mailing, as the name suggests, is nothing but sending postal mails in bulk or large quantities. Bulk mailing is usually employed by small to large-scale companies that use postal mail as one of their major communication methods.
The bulk mail approach is a favourite among many businesses because sending postal mail in large quantities entitles you to discounts and other benefits from postal service providers.
Furthermore, direct mail has a higher chance of getting a positive response from its recipients and a much higher ROI (Return on Investment) than many mainstream marketing strategies. Generally, a company or business that employs bulk mailing sends out hundreds and thousands of direct mail items regularly.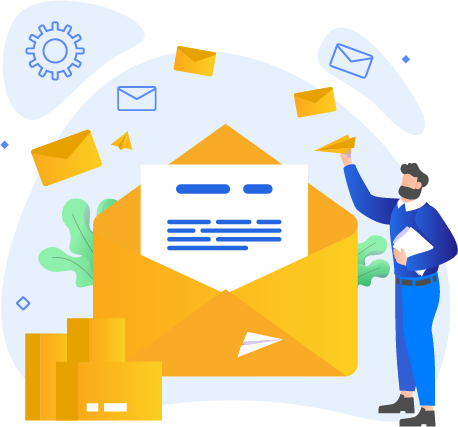 The ideal choice for a postal service provider in Canada is none other than Canada Post due to its reliability and economic services. Canada Post is the ideal bulk mailing partner for businesses of all sizes because they can use their services and still get a good deal depending on the number of mailpieces they send out.
This article discusses what bulk mailing is and the major bulk mailing services available in Canada.
We discuss the major benefits of bulk mailing for your business. We further dive into the finer details of bulk mailing, such as the minimum required volume, the types of mail, bulk mail rates, how to get bulk mail discounts, and more.
Benefits of Bulk Mailing
Bulk mailing in Canada can be incredibly beneficial for businesses of all sizes if they employ it right with a strong strategy. Below we discuss some of the main benefits of bulk mailing for your business.
1. Lower Per-Piece Rates
The first question that comes to your mind when thinking about mass mailing services is how much does it cost to send bulk mail?
The biggest advantage of bulk mailing over regular mailing is the low per-piece rate because the bulk mailing service entitles you to discounts that can fall anywhere between 5-30% depending on your mail quantity.
2. Demographics Targeting
Targeting your mail gets easier using bulk mailing. You can target specific demographics such as age, income level, gender, location, marital status, etc.
3. Flexibility
You have the flexibility to choose which type of mail you want to use for the campaign. Canada Post offers a number of postal mail such as
4. Positive Return On Investment (ROI)
Unlike what some of you may have thought, direct mail has a higher ROI than most other marketing methods, and the ROI can be enhanced by curbing your spending through bulk mailing discounts.
Also Read: How to Save Time and Money with Canada Post Drop-Off Box?
Minimum Volume Requirement for Bulk Mailing
We know for a fact, that by using bulk mailing service, you can get discounts on your postal mails, but how many mailpieces do you need to send to get this discount?
If you are sending mail inside Canada via Canada Post, then you will need to send 1000 mail pieces or more to get Bulk mail discounts. If you are sending posts internationally, you are eligible for discounts as long as the number of mailpieces you send is 100 or more. This is an ideal way for business correspondence, invoices, and billing documents.
Types of Mail and How to Choose
You can use different types of mailpieces for your marketing campaign or communication efforts through postal mail. Canada Post even has some innovative solutions that can enhance your marketing efforts. Below we discuss some of the major types of mail you can use for your business.
Postcards
Postcards are an effective way to communicate with your target audience and make an emotional appeal to them. Their ability to personalize them with images or infographics printed on them makes them ideal for grabbing the attention of the recipients.
Also Read:
Why You Should Use Automated Postcard Mailing
Lettermail
Lettermail is another common type of mail, and they get priority handling from Canada Post. This type of mail is used for sending invoices, billing statements, and time-sensitive documents. The Lettermails are usually delivered within three to seven working days.
Personalized Mail
These are standard mails, and they are also called admail. The mails must not weigh more than three pounds, and they are mostly used for sending catalogues, manuals, listings, etc. This kind of mail is often employed by marketers, and the delivery is made within four to fifteen working days.
Neighbourhood Mail
Unlike the other types of mail, the neighbourhood mails need not be addressed, and it may be printed or non-printed (product samples). Neighbourhood mails are not addressed to any specific delivery address. Instead, they can be targeted to specific areas or postal codes, making them ideal for marketing purposes.
Bulk Mail Discount Rates
The more postal mail sent out using Canada Post, the higher the bulk mailing discount you get. Canada Post uses a level-based discount system for their bulk mailing discounts where the rate of discount you get is divided into saving levels from 1 to 4. These saving levels can adapt to your business's growth.
Furthermore, Canada Post adjusts this saving level quarterly based on how much money you spend over the past 12 months. This means that if you are new to a bulk mailing from Canada Post, then your level will be decided based on your shipping spend to date.
The first saving level comes in two tiers which are
Level 1: Post Office
Level 1: Online
Level 1 has a yearly spend of $0 to $2499, and while the post office version only gets a discount of 5%, the online counterpart gets a 9% discount. Furthermore, this discount varies based on what type of mail you use too, viz., Priority mail, Xpresspost, and Expedited Parcel.
Most businesses use priority shipping, and they get a discount of 13%, 18%, and 30% for saving levels 2,3, and 4, respectively. The shipping spend caps at $4999 for level 2, $7499 for level 3, and $7500+ for level 4.
How to Send Bulk Mail?
Sending bulk mail is pretty simple and straightforward, so long as you have a good understanding of bulk mail or employ an advanced, automated direct mail solution like PostGrid. If you are looking for DIY tips for your bulk mailing, then the following points will come in handy for you.
First, you need to draft an attractive mailer for your target audience with catchy one-liners and graphics. You must also include a compelling CTA in it.
After the draft is prepared, you need to prepare a mailing list, but be careful to verify the addresses as deliverables using the Canada Post database and ensure you use SERP-certified addresses.
Now you can proceed to search for a reliable bulk mail printer. You can even get quotes from multiple printers.
You then need to ensure that you have complied with any legal requirements for bulk mailing, such as PIPEDA compliance.
Now you can proceed to pay for the postage, which can then be mailed to its destinations.
The Easy Method
The best and the most convenient method to use bulk mailing, however, is to simply use an advanced, SERP-certified, fully automated direct mail solution like PostGrid. This way, all you have to do is use an advanced system to automate your direct mail efforts. Advanced systems like PostGrid can print and mail PIPEDA-compliant direct mails and verify your address database using the official address database of Canada Post. This means you can ensure the deliverability of your direct mail and optimize your campaigns to perfection.
Also Read: What Are Canada Post Delivery Standards and How to Use Them for Effective Shipping?
Wrapping Up
Bulk mailing is an effective way for businesses to optimize their direct mail efforts. Businesses that send large quantity direct mails can optimize their Return on Investment (ROI) by reducing the cost per piece for mailing via bulk mail. However, to truly streamline your direct mail process and get the best result out of it, you need to automate it using an advanced tool like PostGrid.
With an advanced direct mail automation tool like PostGrid, you can verify addresses to SERP standards and ensure the deliverability of your mail. Moreover, PostGrid is a PIPEDA-compliant service provider meaning that you need not worry about anything once you employ such a system.