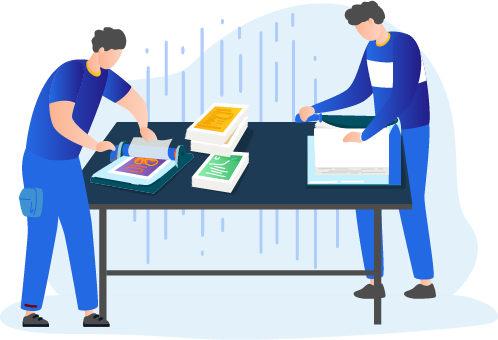 What Is Digital Printing, And Are Its Benefits For Your Business Organization?
Henry David Thoreau once said, "Before printing was discovered, a century was equal to a thousand years."
And we couldn't agree more. But now printing is entering a whole new era, thanks to digital printing. We agree that there are so many advanced printing systems available today. Heck, you can even print stuff in 3D now.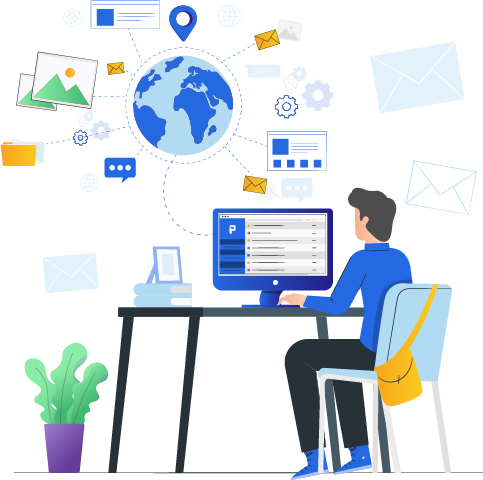 But if you think about it, humanity's second milestone in printing began with digital printing. If you feel that is an exaggeration, think about where we would be without it. What if we did not consider incorporating digital devices into our printing processes? Life would be a whole different for us now if we didn't.
But, let's stick with the topic at hand – digital printing. You must be wondering why we are making such a big fuss about it. To put it shortly, incorporating digital solutions for business printing makes it much more convenient for companies.
More importantly, digital printing solutions can save your business significant time and money. It can even streamline your entire marketing and communication process, and below, we explain how it does all this.
What is Digital Printing?
Digital printing allows you to print digital-based files directly onto different materials. It lets you print all sorts of marketing and communication materials, such as
Postcards

Brochures

Invoices

Billing statements

And more.
It is the best way for businesses to meet all their printing needs, including bulk printing and mailing. Why? Because, unlike offset printing, digital printing does not require a printing plate for printing your marketing or communication materials.
You can use a digital file on your computer or mobile device and print them directly using your mobile device. That means you can send the PDFs or desktop publishing files straight to a printing press. Depending on your printing service provider, you can print the digital file on the following materials.
Paper

Canvas

Synthetics

Cardstocks

Fabric

And more.
What Are The Advantages of Using Digital Printing?
Using the Digital Printing process for your business's marketing and communication purposes offers you several benefits and advantages. The list is so long that we can not mention all the advantages here.
But here is a quick outline of what you can expect from your business organization once you switch to digital printing.
Superior Personalization Using Variable Data Printing
Variable Data Printing is the best thing to happen to your business, thanks to digital printing solutions like PostGrid. Around 80% of consumers are more likely to buy a product/service from brands that provide them with a personalized experience.
It allows you to personalize your printed marketing and communication materials using a template. In other words, instead of writing or typing separate letters to your customers, you can use a template. It allows you to decide the variables for your communications, such as.
Names

Addresses

Codes or numberings

And more.
Enables You To Make Small Print Runs
One of the significant advantages of digital printing is that you don't have to wait for bulk printing requirements for printing your materials. It allows you to make small print runs without causing a fuss or requiring you to bulk print materials.
High-Quality Printing
According to a survey by Venngage, over 60% of businesses rely on visuals for their marketing efforts. The last thing you want is to print low-quality marketing or communication materials that compromise readability. With a reliable digital printing service provider like PostGrid, you can ensure high-quality printing for your business correspondence.
For instance, direct mail for real estate businesses often involves personalized printing postcards with pictures of listed properties. Imagine a black smudge near the fireplace or the TV remotely resembling the girl from "The Ring." Even that is enough to make a potential buyer skeptical about the property. Similarly, using an unclear image on the mailer could be off-putting to the reader as they may judge your brand's quality based on the image's quality.
Here are some other real estate postcard ideas you can quickly implement with an automated digital printing solution.
Faster Turnaround Time
One of the biggest concerns about using print media for your marketing or communication efforts is the time it takes to implement. Businesses don't have the luxury of time to wait around for days,e especially if other online marketing efforts are running in tandem. Advanced digital print tools like PostGrid minimize this problem by giving you a faster turnaround time.
It is not surprising that our clients often come to us worried about their tight schedules. The biggest concern for most of them is how soon we can deliver their marketing or communication material via digital printing. And this is what our experts say to them.
"A digital printing process offers a significantly faster turnaround time for you. But, if you still have concerns regarding it, you can use PostGrid's scheduling feature. You can use it to schedule the printing and delivery of your printed materials to your customers. That way, you won't ever miss another deadline as long as you plan it."
Lower Cost Per Unit
Another issue businesses face with printed materials is the relatively high cost of producing them. With digital marketing, things are a whole lot simpler and are cheap as you don't need paper or ink. However, digital printing allows you to minimize these expenses significantly.
For one thing, digital printing solutions like PostGrid can connect direct mail API directly with your CRM. Therefore, you can eliminate the chances of printing errors like misspelling, printing the wrong postal code, etc. Another thing is that providers like PostGrid let you access special discounts from Canada Post for bulk mail. As a result, the cost of printing and mailing your printed materials per unit comes down.
Maintain Optimal Print Quantity
Over or under-printing is one of the challenges businesses face with printing their marketing materials by themselves. Printing more materials than you need leads to losses and lower ROI. On the other hand, printing too few restricts the reach of your campaign and effectively brings down the ROI again. But, you can quickly fix this with digital printing.
Here, it can help you a lot if you could think like Thanos in The Avengers. No, we are not saying that you should start thinking like a tyrannical sociopath. Think of digital printing as your infinity gauntlet and snap it to ensure optimal print quantity for your business. Or, as Thanos would put it, strike the "perfect balance."
What Are The Disadvantages Of Using Digital Printing?
It is not all sunshine and rainbows with a digital printing process. Like everything else, digitally printing your printed materials also has its downsides. Some of the significant disadvantages you should consider before adopting a digital solution for printing are as follows.
Higher Cost Per Page
One of the noticeable drawbacks of digital printing is that it sometimes has a higher cost per page than some traditional offset printing. However, there is a silver lining here. Usually, this price difference balances itself out with the high setup cost for offset printing and printing plates.
Lack Of Fine-Image Detail In Commercial Printing
Suppose you do not use a professional digital printing service like PostGrid. In that case, there is a good chance that the printed materials lose the fine-image details. Hence, it would be best if you didn't settle for a commercial printing process for your company's marketing and communication efforts.
What Is Digital Printing Used For?
When it comes to digital printing, business organizations usually use it for one of the following reasons or capabilities.
Variable Data Printing (VDP) Or Personalization
The primary reason for using a digital printing method for your business is easy and efficient personalization. An advanced direct mail automation software can connect with your CRM solution to quickly personalize your printed materials.
Print-On-Demand
Another use of digital printing for your business organization is print-on-demand. It allows you to print various marketing and communication materials per demand, saving you valuable time and money.
Fast Turnarounds
As we explained, the digital printing method offers a significantly faster turnaround time. You can use it to ensure efficient marketing and communication for your business. Furthermore, it also lets you combine offline marketing methods like direct mail with your digital marketing campaigns.
In other words, an automated solution like PostGrid lets you execute multichannel and omnichannel marketing campaigns for your business.
Conclusion
Your business organization stands to gain a lot by implementing a digital printing process for its marketing and communication efforts. It is better than traditional printing methods like offset printing in every way possible.
Automated digital printing tools like PostGrid lets you personalize your printed materials. And all it takes is the click of a button to personalize your printed material, print it, and deliver it to the customer.
Besides this, you also get a faster turnaround time, high-quality printing, and, most importantly, greater convenience with printed materials. In other words, using an automated digital printing tool like PostGrid optimizes your marketing and communication efforts.