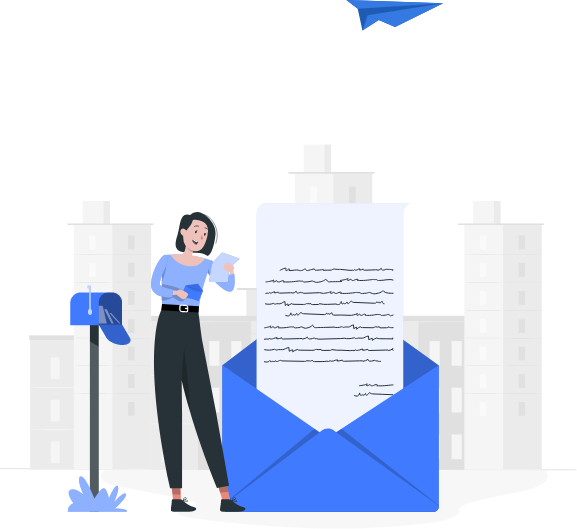 How To Send An Envelope In The Mail the Right Way and Save Costs?
Did you ever struggle with how to send an envelope in the mail correctly? There are good chances you aren't aware of the addressing rules or sizing guidelines. Canada Post makes it a breeze to mail letters, but not until you know how to do it right!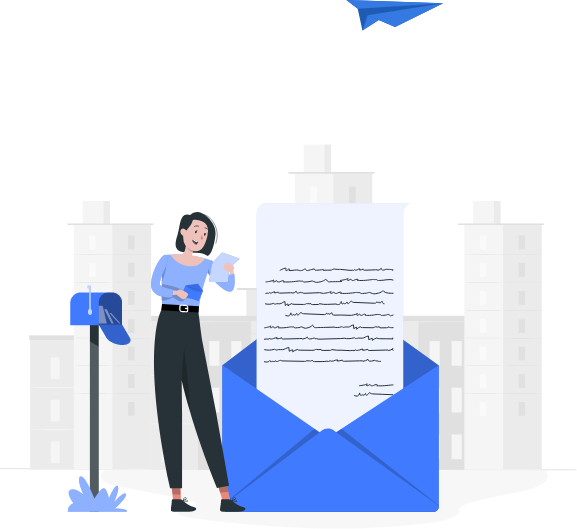 We cannot deny that you must undertake multiple steps while shipping envelopes. Thus, sending an envelope in the mail may require you to spend quite a lot of time and effort, primarily if you do it often. 
Luckily, we are here to explain the process, so you don't have to stop yourself from writing to your loved ones or sending business correspondence!
Let's get started!
How to Send an Envelope in the Mail?
There are many things to take care of before you drop off your envelope for shipping to its destination. Also, you should follow the correct steps, from preparing your letters to enveloping and sealing them. 
Below, we have listed every step for you to understand better:
Choose Your Envelope
You require an envelope that can transport your letter to your recipients securely. Lightweight envelopes can tear in transit, leading to lost or stolen mail. Hence, choosing a sturdy envelope that fits your mailing purpose is your first step to mailing a letter envelope correctly! 
If you want to send a business letter, use a brown or white envelope to make your mail look professional. Otherwise, formal letters go better with colourful, decorative envelopes with small personal messages on the front cover. 
Also, determine the contents' weight for sending an envelope in the mail intact. It is better to use heavier envelopes if you want to send items, like photographs, thick cards, etc. 
Enclose Your Letter
Canada Post has specific letter dimensions you need to follow to pay the standard letter-size mail prices for sending an envelope in the mail to someone. You can use a single stamp for envelopes under 50 g, but their dimensions should not exceed 9.6" x 6.1" or 45 mm x 156 mm. 
Knowing how to mail an envelope can help you pick the right size, allowing you to pay the lowest postage. Note the maximum size for postcards for international shipping is 9.2" x 4.7" or 235 mm x 120 mm. 
Non-standard and oversize items can weigh up to 500 g, but you need to pay a higher postage rate for mailing a letter envelope or postcard. Their maximum dimensions are 15" x 10.6" or 380 mm x 270 mm. 
If your mail items are broader than these dimensions or weigh more than 500 g, use Canada Post's parcel services. Also, remember that you must also consider the minimum dimensions (same for all envelopes and postcards), which are 5.5" x 3.5" or 140 mm x 90 mm. 
You may think that learning how to send an envelope is hard, but it gets easier as you send more and more letters. Yet, if you want to save time and money, try PostGrid's direct mail API to do everything online at the click of a button!
Seal Your Envelope Tightly
The next step for mailing a letter envelope is to seal it properly. Lick the edge to moisten its glue and apply pressure to shut it. Alternatively, you can use a wet sponge to add moisture to the envelope if you want to lick it. Either way, ensure that the glue helps you seal the envelope tightly. 
You may also use a small piece of clear tape on the edge of the flap while sending an envelope in the mail if you think it might open in transit. 
Write the Mailing Address
This part may be fun for you or incredibly stressful! Writing a delivery address on your letter can be tricky because you must use the correct Canada Post format. It is a very crucial step in knowing how to mail an envelope to the intended recipient!
You can start with your recipient's name on the first line. It is not mandatory to add a title, but you may if you want. Also, you can add more than one name if you need to ship the letter or document to multiple people, assuming they live or work at the same address. 
The company's name should be on the following line of your address when mailing a letter envelope to commercial addresses. 
Then comes the unit number, civic number, and street address, for example- 15 – 201 MAIN ST. This line helps the Post Office narrow down your destination location and reach the correct person while sending an envelope in the mail, so write it accurately.  
Take care of the street abbreviations, like ST, RD, AVE, etc. Also, try using the proper directions, including SW, NW, SE, NE, N, S, E, and W. 
If you don't know the abbreviations and want to learn how to mail an envelope, visit Canada Post's website. 
Use a single space when writing the civic number suffix, like 124 8. But, you can write the whole thing together if the suffix is an alphabet, for example- 124A. 
The last line carries the municipality, province or territory, and postal code for mailing a letter envelope or package. 
Again, write the abbreviations instead of the full province name. Also, separate the two parts of your postal codes with a space, like H32 2YZ. There must be two spaces between the province and postal code. 
Here's an example of the correct address format:
David Rogen
Vought Group of Companies
4 – 581 Greene AVE
Montreal QC H4C 2J8
PO Boxes require you to write the PO box number instead of the street address line for sending an envelope in the mail and helping Canada Post deliver it. However, you need to follow a different format for military addresses. Contact a nearby Post Office or call their customer service to confirm the address before you continue mailing a letter envelope to it. 
Mention the Return Address
Once you know how to mail an envelope and write the delivery address in the centre, mention your return address in the top-left corner. It helps Canada Post return your items accurately if they cannot deliver them. 
Various things could obstruct your mail delivery, making it more crucial to know how to send an envelope in the mail with a return address. You can place it on the backside or front cover of the envelope. But, mention the correct details so the Post office can find you easily. 
Also, use the format as the delivery address because the postal equipment reads your address the same way. Hence, following the Post Office guidelines for writing a return address makes the process speedy and effortless. 
Affix a Postage Stamp
The number of postage stamps you attach while sending an envelope in the mail depends on your mailing service. Canada Post offers many choices with varying speeds and costs to enable you to select according to your needs!
PriorityTM helps you send your items to any part of Canada in only one business day. It is the fastest postal service you can use for time-critical envelopes. If you ask the Post Office how to send an envelope in the mail speedily, this is the first option you get!
It provides many benefits, like an on-time delivery guarantee, tracking updates, delivery confirmation, and a $100 liability coverage. You also get a signature on delivery, but there are some services you need to pay for, like collect on delivery (COD) and return to sender. 
Your next option for mailing a letter envelope is XpresspostTM which offers local and regional deliveries in one day. National or interstate deliveries can take up to two working days. Almost all its features are similar to PriorityTM, but you need to pay extra for a signature on delivery.
XpresspostTM is less costly than PriorityTM for sending an envelope in the mail, so you can select this service if you can wait a few days more. 
You have two more domestic mailing options that are apt for sending parcels. But, you can use them for mailing a letter envelope that does not fit the requirements for shipping via the first two options. 
Flat-rates boxes help you send mail items locally in one to two days, regionally in one to four days, and nationally in two to eight days. Its features include an on-time delivery guarantee, delivery updates, confirmation, and a $100 liability coverage. Other features are unavailable for this service, and you cannot avail of them by paying an additional fee. 
If you want to know how to mail an envelope of a large size inexpensively, choose Regular ParcelTM. It can take up to ten business days to deliver nationally and doesn't include an on-time delivery guarantee. 
Your postage stamps should cover the cost of the service you select for sending an envelope in the mail via Canada Post. You may use custom or limited-edition collectible stamps according to your mailing purpose. 
Drop Off Your Envelope
After you learn how to send an envelope and prepare it, you can drop it off in a red mailbox nearby. If you want a carrier to take out your items on the same day, try dropping them off a day before or early morning.
The ideal method for mailing a letter envelope is to place your envelope in your mailbox and turn the red flag upwards. It indicates that you have outgoing mail, and a carrier can collect it for delivery. Thus, you don't need to go anywhere to drop off your letters.
Another option is to visit the Post Office and lodge your envelopes over the counter. It is ideal if you don't know how to mail an envelope or calculate the postage accurately. A postal employee can help you decide which mailing service is suitable for your item. And you can pay the postage directly instead of attaching stamps.
How Can PostGrid Help You Send Envelopes in the Mail Without Doing Anything?
Imagine you find a way to prevent preparing your letters or choosing envelopes. Also, imagine you don't need to worry about how much to pay or lick and seal your letters. Wouldn't it be a life-saver if you could automate everything using an online tool?
PostGrids direct mail services help you for sending an envelope in the mail and other items automatically. You can make an account and push some buttons on your device, and voila!
Here's how you can do the above steps for mailing a letter envelope differently with PostGrid:
Instead of choosing and buying sturdy envelopes, you can leave it to us to select top-quality and thick envelopes for secure mailing. Also, you may choose custom envelopes for marketing letters. 

Enclosing letters and sealing your envelopes is a manual job and may cost your staff hours of their precious time. PostGrid's direct mail API helps you automate these menial tasks for sending an envelope in the mail and help your employees focus on more productive areas. 

The following steps are to write the delivery and return address. If you are like us, you may love picking up your pen and writing them down in the old-school style. But what about when you need to mail 50 letters, a hundred, a thousand, or more? Luckily, PostGrid makes mailing a letter envelope in any volume simple by eliminating these tasks for you. Our printers can print your envelopes with the correct address hassle-free. Also, PostGrid

validates your mailing addresses

beforehand to ensure a 99.99% deliverability rate. 

We also help you attach correct postage without learning how to send an envelope in the mail via the Post Office. Our automated solutions can work the math at lightning speed and get everything done for you!

Also, you don't need to carry your envelopes to the mailbox or the Post Office. Printing and mailing your items with us guarantees that you put in zero manual effort.
In-house mailing demands you to spend tons of time, effort, and money and still send out plain-looking letters. PostGrid facilitates sending an envelope in the mail in top-notch quality, assuring results and adding value to your campaigns!
Sign up now to know more about how we help you with mailing a letter envelope at industry-best pricing!