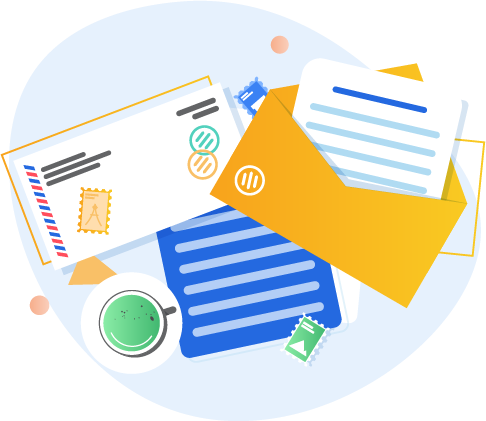 What is Direct Mail?
Direct mail is a marketing technique that encompasses sending physical correspondence in the form of catalogues, brochures, newsletters, postcards, and other letters. It is an effective way of maintaining offline communication among the customers and leads. It is sent by the use of Canada Post or any other direct mail marketing service provider.
The use of direct mails has been an evergreen practice in the states to generate leads and find new prospects. The direct mail definition is wide arrayed and can also be deemed a way to retain the existing customers via physical promotional material and keep in touch with them regularly.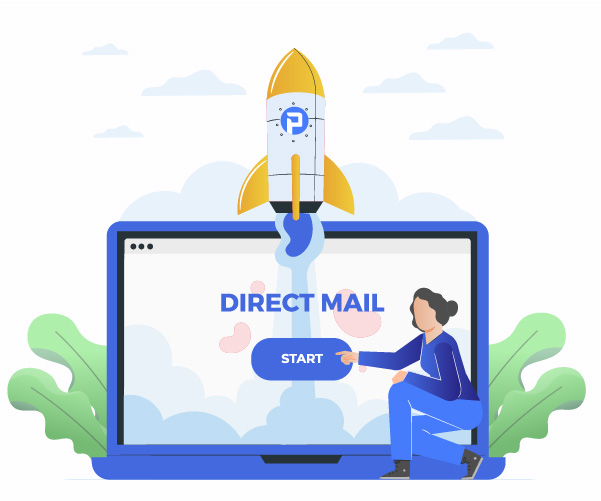 Why Direct Mail Marketing Still Works to This Day?
For a world that is pacing itself with the breathtaking speed of digitization, direct mail services may come across as a sign of sticking to traditional means. But in hindsight, direct mails for all its calls of traditionalism or classic means of mailing still stands near the top for return on investment among different marketing means. That's something that was brought to light by the recent surveys for marketing mediums.
Direct mail is still standing tall in this modern-day due to its impressive range of offerings and features, something which we'll discuss down below:
Direct mail is interactive
Direct mails tend to be interactive in comparison to digital mails or campaigns. Since direct mail is an offline-based marketing technique that uses physical delivery of the mails, these tend to offer an immersive interaction to the receiver. This also makes the customer compelled to glance over the mail and, in turn, reach out to your company.
Direct mail evokes memories
How much we preach about the world going digital and tech-savvy, some things still hold a place in this world. There are quite a few things that bring up a nostalgic feeling for people, and direct mails are one of them. They recreate those nostalgic feelings of receiving physical mails. This can spark a connection and an emotional response from the receiver. Adding personal touches and customization can bring about better chances of generating a response from the receiver.
It opens the door to creativity
There are endless means to put your creativity to work with direct mails. At times, direct mails can become the breeding ground for customization and creative touch that can entice people to put in responses. The nature of direct mail gives a lot of space and options to work out with, making them a good choice for marketing.
It encompasses wider demographics
The thing about direct mail solution is that it tends to have a larger exposure than the digital campaign or other mediums. It doesn't matter whether the target audience is on social media or not; direct mails will reach their homes. Direct mail reaches to a larger demographic than any other electronic marketing can reach.
It has less competition
With the digitization wave kicking in, many companies are giving up on direct mail marketing to opt for digital media. This makes the field now wide open for other companies who previously could not capitalize on direct mail campaigns. A well-curated and planned direct mail campaign at this point can enact higher responses than it ever did for plenty of companies.
Also Read: Direct Mail Marketing for Financial Advisors
8 Strategies to Maximize the Benefit of Direct Mail Marketing for Your Business
Direct mail marketing is extremely beneficial if you can plan it accordingly. The results derived using direct mail marketing are still on top of digital marketing for many business firms. Here's a guide to 8 strategies to plan direct mail marketing to yield maximum benefit for your business.
1. Define your goals
A business enterprise with a clear goal is likely to achieve more outcomes from a direct mail campaign than without a clearly defined goal. Defining your goals is the first step to initializing your direct mail campaign.
Be sure to ask yourself questions like "what is the motive behind the direct mail campaign?"
Do you want to generate new leads or increase your traffic or find possible prospects in the area or maybe create hype for a new product launch? Finding answers to these questions will help you plan your direct mail campaign strategically for better results.
2. Define your audience
Just as defining the goals is an important factor in direct mail marketing, defining your audience is also a major point. For any direct mail campaign to become a successful one, you need to predefine and know your targeted audience.
Once you know your audience, you can tailor-make your campaign to facilitate them and turn them into genuine prospects. Base your search on criteria such as demographics, consumer behaviour, needs, and requirements and refine your audience to your suitability.
3. Have a mailing list
Mailing lists have always been the go-to for any marketing campaign, whether it's a direct mail or a digital mailing campaign. Having a mailing list allows you to headstart your campaign in the right way with the right prospects. Once you have refined your audience and created a mailing list based on the criteria, you're more likely to yield higher conversion.
Create a mailing list with precisely curated audiences so that you get high deliverability and leads from the direct mail list. You can get mailing lists by sourcing them individually or opting for high-profile mailing lists provided by the mailing platform.
4. Create a worthy CTA
A direct mail campaign is designed to yield the conversion of leads into prospects. It is based on the principle of targeting the audience to achieve higher deliverability rates. For that to happen, you'll need a good Call to Action (CTA). A CTA is vital to help transition the audience into your customers and generate a high number of inquiries and leads. Being clear on the goals and creating a worthy CTA will go a long way to give your campaign the right boost it needs. Focus on attention-grabbing CTA that etches into the memory of the receiver.
5. Select the right type of direct mail
There are different direct mails on offer that a campaigner can select from. The likely options are postcards, letters, brochures, flyers, catalogues, dimensional mailers, inserts, and more. Real estate has seen an upsurge in postcards, brochures, and flyers as they provide larger space to work out with. Similarly, other industries will likely benefit from some other variant of direct mail. Finding the right direct mail type for your campaign is of utmost importance.
6. Customize your direct mail campaign
There are different customizable options readily available these days with the use of direct mailing API and platforms. They have tons of designs and templates to choose from, which can help you find that extra punch in your mailers to entice the receiver.
Designing a direct mail campaign in the right way is much needed. You wouldn't want your direct mail to be full of graphics that will push the receiver away, nor will you want it to be bland. Try to integrate the use of templates and trusted designs to help create your company's better image. Make it easy to readable.
7. Test your mail
Testing is vital for any process and applies the same to direct mail campaigns. Testing your mailing campaign before sending it out in large batches helps you diagnose the issues and rectify the same thing. You will also likely find the response rate and use the same to improve your process and mails. Try sending out the mails in a small batch to a selected bunch of test recipients. Choose the test recipients from varied data among your targeted audience to identify viewpoints from a varied number of receivers.
8. Use sending platforms
The use of manually creating the direct mails and contacting the Canada Post or courier service for mailing them is outdated at present. The process involves multiple points of involvement from the mailer and can become hectic for a business organization. For a company that may have to deal with large volumes of mails, the resource and staff put to use can be quite large.
Using a direct mailing sending platform and API can conduct the entire process on your behalf and provide an automated solution to you. It can also take care of creating, mailing, and delivering the mails along with trackability reports for the same. Using a direct mailing sending platform and API is likely to improve the process and campaign, leading to a higher ROI soon.
Also Read: Bulk Or Mass Mailing Services
Types of Direct Mail
There are different types of direct mails that you can use for your campaign. The choices are often based on the parameters like budgets and marketing initiatives taken by the seller. We've picked the six different types of direct mails that are commonly used for marketing and lead generation.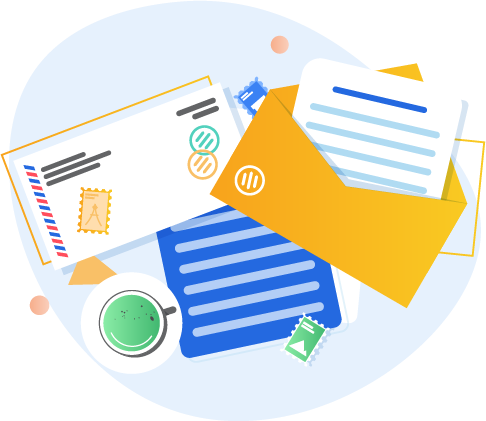 Postcards: Postcards are a versatile direct mail option that suits multiple business firms and organizations. It is much loved for its ease of use, options for colour, and graphic integration. Postcards also tend to be cost-effective and are used for events announcement, organizing ceremonies, real estate deals, and more.
Letters: Letters are the old-age direct mail variant that has ever been present. They tend to be termed as the classic package and are still frequently used. A letter package comes with a letter and a response form enclosed within an envelope. The letter in the package helps relay the message in detail and allows the receiver to know about the campaign properly. It is used mostly for campaigns like surveys and fundraising events.
Catalogues: Catalogues are generally used for showcasing the range of products on offer by the company. This comes with the inclusion of products and company profiles along with details for the product offerings. It also has offers and announcements regarding the sales enclosed or imprinted in the catalogue.
Self-mailers: Self-mailers resemble the format of the letter, albeit without the envelopes. The self-mailers are designed in a way to be folded down right before the address part. The postage is applied to the self-mailer. These are mostly used for product announcements, sales event announcements, and more.
Dimensional mailers: These are the new-age modern mailing means that are often deemed the standout mailing option. Dimensional mailers use pop-ups, 3D elements, and more in their design to incorporate an interesting-looking direct mail. However, these mailers' downside is that they're the most expensive direct mails around and are not suited for all types of campaigns.
Inserts and Wraps: These are similar to the postcards in dimension and are included as part of the package with the other direct mails like magazines, catalogues, and more. They are known to help highlight and promote sales and events.
Dos and Don'tsDon'ts of Direct Mail
Dos
Get clear about your goals and strategy
Using direct mail campaigns is a great way to generate leads and find new prospects for your business. However, this only works when you use the right strategy and remain clear on your goals. Finding the goals and making a viable strategy to fulfill the same is a good way to go. Try to integrate a clear message in your direct mails so that the receiver understands your mail's motive.
Understand the concept of preparation
Preparation is a vital cog in the process of a direct mailing campaign. It helps to lay down the marker for the successful campaign ahead. Go for a common approach based on the 40-40-20 marker. This approach puts 40% emphasis on the offer contained within, 40% on the quality of the direct mail, and the rest 20% on the content, design, and delivery of the mail.
Proofread your mails
You'dYou'd be amazed to know how many campaigns turn out to be less fascinating due to this one grave mistake. Proofreading your emails is vital if you want to create a positive perception of your organization. A small typo or error may create an everlasting dent in the image of the company. Do a double check on the copy of the mails and ensure it is readable and maintains a good content flow.
Don'ts
Forget to follow up
Always keep track of the number of people responding to your direct mails and keep a note of them. This step allows you to maintain a database of interested prospects for your project. This database will come in handy when you go for future mailing activities and create constant contact with prospects.
Forget to track your package
Sending out direct mails doesn't mean the end of the journey. It's a mere beginning that can be one of the most fruitful things to happen if tracked well. Tracking a package or direct mail can help a company find the mails' response rate. This can give an insight into the analytics and can be used for future planning.
The Bottom Line
Direct mails are still very much in trend and will continue generating great business organizations and firms' responses. A properly planned strategic direct mail campaign allows for an increase in the company's outreach. This is where using an automated and scalable direct mailing platform, that comes in handy.
With PostGrid's direct mailing platform and API, you can automate the letters, postcards, cheques, mails, and more with ease and create a positive impact on your ROI.
Schedule your demo today and let the direct mail marketing work for you.