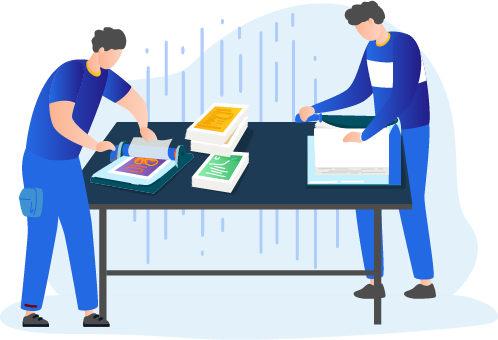 What Is Print Advertising and Why Do You Need it?
It is easy to assume that print advertising is no longer effective due to the rise of digital marketing. However, it is far from the truth as print advertising is still prevalent, and companies across the globe continue to include it in their marketing strategies.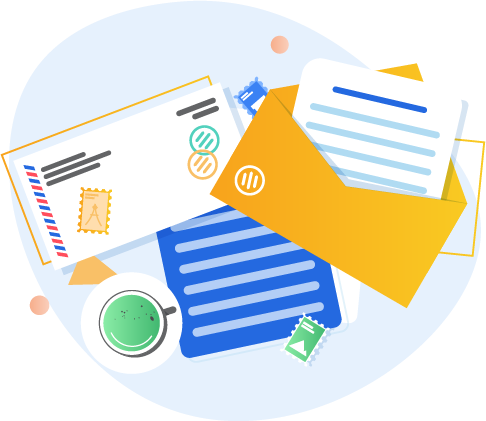 Print ads are an offline mode of marketing and have been doing well for centuries. Moreover, it performs better than all the modern marketing channels like email marketing, paid search, social media marketing, etc.
Print advertising is interactive, engaging, and memorable. It offers companies a great way to communicate their message directly to their target audience.
Whenever customers view print ads, they can grasp their content better than digital ads. It is because people tend to see a social media or display ad for only a few seconds. On the other hand, best print adverts get more attention as people can hold them and read them whenever they like.
It is okay to have second thoughts before conducting print marketing campaigns as a lot of people consider them outdated. But, by the end of this article, you will understand how print advertising can change the face of your marketing plans and boost your ROI!
What Is Print Advertising?
Print advertising is a traditional marketing channel wherein marketing advertisements are printed in publications like journals, newspapers, magazines, etc. It is a marketing channel where businesses use physically printed materials to reach out to potential customers.
However, print advertisements are not only about newspapers and magazines but have wide coverage too. Direct mail is also a form of print marketing and can drive conversions the same way as other printed media.
Such print advertising strategies were once the standard marketing form. But, now, many companies are spending more on digital channels as they think of print media as an untraceable and expensive mode of marketing.
Yet, print advertising can help you connect with your target audience in a way that digital media just cannot.
Keep reading this guide to find out the answer to why do advertisers still use print advertising even though everything in the marketing field is going digital.
Why Do We Need Print Advertising?
Below are some eye-opening reasons why print advertising is still ruling the marketing industry:
Print Advertising Can Drive Conversions
The entire point of marketing something is to get more and more people on board as customers, either immediately or in the long run. Print advertising can help companies do that very well, as 82% of customers trust print marketing materials the most while making a buying decision.
Hence, you can drive more conversions if you put the relevant print ads in front of the right audience.
Print Advertising Is More Personal and Credible
Since printed ads are tangible and mostly reach people directly at their houses, they are more personal. Your prospects may not trust your emails and social media ads, but they are likely to trust the printed materials you send to them.
A magazine with your advertisement printed on the front cover is sure to grab more attention than an ad people see over their screens. Also, print advertising is attention-grabbing and long-lasting. It is also memorable, emotional, credible, and many more things.
Printed Adverts Can Aid Your Digital Marketing Campaigns
Marketing campaigns that combine print and digital advertising are 400% more effective. Therefore, it is advisable to integrate your offline and online marketing efforts to generate better results. Hiring a digital marketing agency skilled in blended strategies across channels can help maximize returns.
Also, using an integrated approach to marketing can help widen your reach and increase visibility.
Types of Print Advertising Materials
There are several types of printed marketing materials you can choose from to connect with your prospects and customers. Some of them are:
Newspapers
Newspaper ads are the most common type of printed media. You can research the newspapers that are the most liked by the people in your area and print an ad in the same.
There are so many options. like:
Local, regional, and national newspapers
Daily, weekly, or Sunday editions, etc.
Make sure to select a newspaper publication that matches your buyer persona. You can buy small advertising spaces on the front page to grab readers' attention the minute they pick up the newspaper. Also, you may buy a full-page ad featuring bright images and texts on one of the middle pages.
Newspaper advertising is very inexpensive and easy to get started. But, remember that newspapers have a limited readership nowadays.
Magazines
Today, magazines are relatively more popular than newspapers. They give businesses a lot of choices in terms of frequency and readership. Like newspapers, you can select any edition you want, but choose a magazine based on your industry.
Magazine ads are a little more costly than newspaper ads, but they are worth it. With an impressive design and impactful copy, you can do great with magazine ads.
Posters and Billboards
Billboards and posters are known for getting more attention than the above options. Since they are huge, more people tend to notice them. Also, billboard ads are highly credible.
Plus, you can print and put up posters in malls, town centers, bus stations, airports, etc. This way, you can reach a large group of prospects and get more visibility.
Direct Mail
Direct mail is the best form of print advertising and can generate more results than any other marketing channel. It also beats digital marketing in many ways and makes an impact everywhere.
You can select from a wide range of direct mail items like postcards, letters, etc., depending on your budget and marketing needs. Furthermore, you can send direct mail items straight to your prospects' doorsteps. PostGrid's print and mail API helps you get the best out of your direct mail advertising campaigns.
Print Advertising Advantages and Disadvantages
Before jotting down your print advertising ideas, find below some pros and cons of this marketing channel.
Pros:
Print advertising materials are durable and long-lasting. Hence, they also have a longer shelf-life.
You can track your print ads with trackable features like QR codes, pURLs, and coupon codes.
Print ads are creditworthy and reliable. People tend to refer to print ads more than digital ads while deciding where to buy something.
Companies can get a higher response and conversion rate with print ads than email, social media, and other online marketing channels.
Since print ads offer a nostalgic effect, you can form better emotional bonds with your audience.
Cons:
If you don't plan your budget properly, print advertising can drain your entire marketing budget.
It is complicated to target the relevant audience with print ads.
However, PostGrid's direct mail services can help companies eliminate such hurdles and conduct successful print advertising campaigns.
10 Buzzworthy Print Advertisement Campaigns
Though there are hundreds of print advertising examples to discuss, we have compiled a list of the ten best print marketing campaigns.
The WMF Grand Gourmet Knife
Knives! The first thing that comes to mind when thinking of knives is chopping or cutting food items. It is a must-have in the kitchen, and most of us already have one. But WMF aimed at advertising their knives as luxury products.
It came up with some creative print ads to showcase its knives as sharp, durable, and strong. In fact, the design team of the brand focused on the message that their knives are 'Sharper than you think.'
The image below can portray the level of creativity we are talking about here!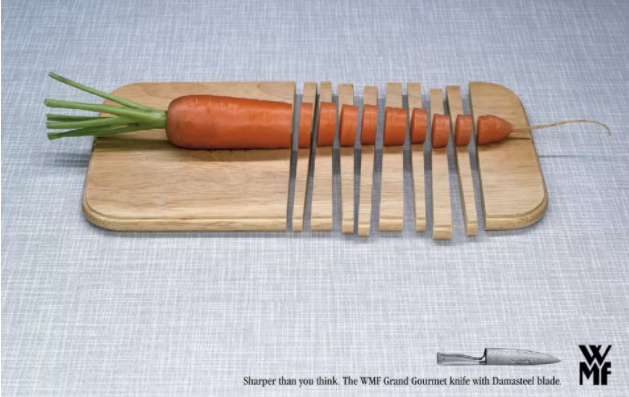 As expected, this print ad did very well among WMF's target customers. The simple, eye-catching image helped the brand turn more heads and drive more sales.
It is not the only WMF ad that got attention. Here's another one giving out the same message, but through a different artwork.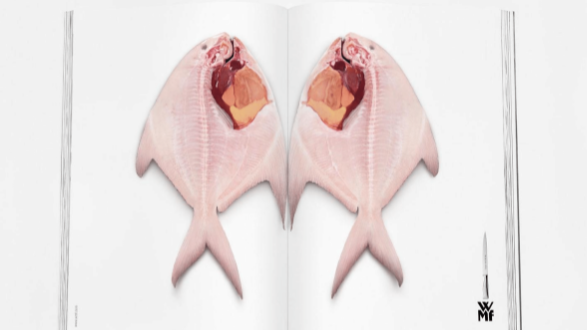 The above image is a double-page spread in a magazine. WMF is trying to demonstrate how their sharp knives can slice their favourite food items in halves smoothly and precisely.
McDonald's: Up All Night
McDonald's is known for a lot of its interactive print ads. They are simple yet very effective. Though it is a global brand with 36,000 branches operating in over 100 countries, McDonald's has never given up on print advertising.
One after the other, it rolls out eye-catching print advertisements as part of its ongoing marketing campaigns.
Find below an image of one of its ads: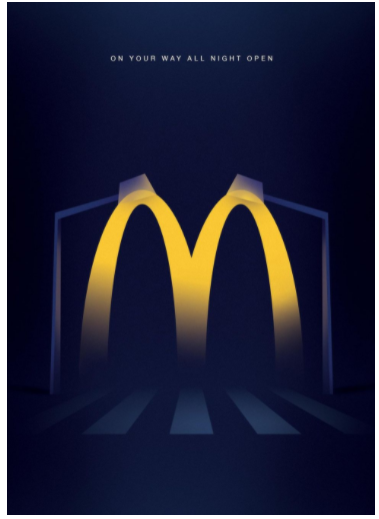 The striking visual with the iconic 'M' says that McDonald's is open for business all night, So, if you are driving around at night and want to stop for a quick bite, you know where to go.
McDonald's has once again used ist letter 'M' smartly and creatively. In this ad, the letter plays the role of a street light lit up the whole night.
We believe that McDonald's has a taste for spooky print ads. Let's take another example: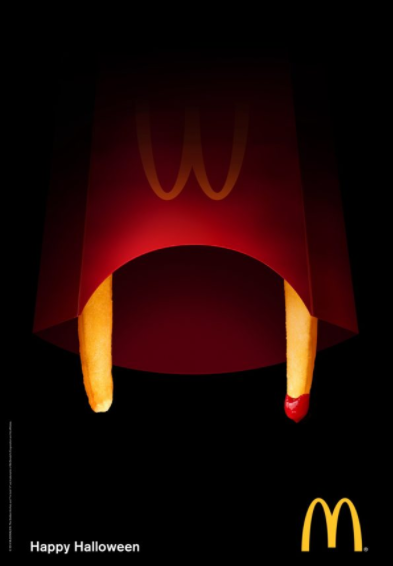 During Halloween, it rolled out this print ad with two french fries depicting the teeth of Dracula and ketchup playing the role of ketchup. It was quite an interesting way to wish customers a Happy Halloween while advertising the brand.
McDonald's has always been a big inspiration for print advertisement design ideas. Its simple artwork with minimal colours and bright lighting effects is loved by all of its customers.
The KFC Apology
Surprisingly, in 2018, some KFC stores ran out of chicken to cook. It ran into trouble with its new suppliers and closed down hundreds of restaurants.
But, instead of waiting for the situation to get better, it issued a print ad apology that went viral. In this ad, KFC apologized to all its customers and thanked its staff for their help.
Like its competitor McDonald's, KFC kept it simple with a small apology paragraph. The ad also has an image of an empty KFC bucket that depicts how they ran out of food.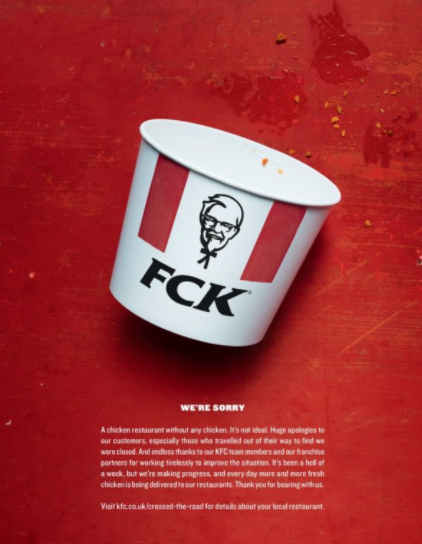 PNET: A Better Job Is Waiting
The tagline like 'A Better Job is Waiting' is already interactive enough to tell you that it is from a job portal.
PNET, one of the biggest job portals to exist, decided to design a wake-up call for employed people. The ad below depicts how people spend years and years stuck in a soul-crushing job that is not good for them. 
It has a huge image of a person sitting in front of the computer for so long that he is covered with moss. The tagline is placed at the bottom along with a link to the recruitment portal. It shows how a single image with a single line can be powerful enough to grab responses for your ad.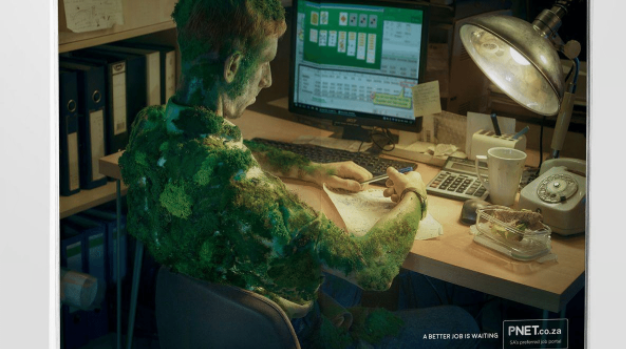 Band-Aid's Flexible Fabric
We all know what Band-Aid is all about. In fact, the brand name in itself is so creative that we often say 'Band-Aid' even when we want to say 'bandage.'
But, being so popular already didn't stop Band-Aid from designing some of the best print ads of all time. 
The ad below highlights the flexibility of the fabric used to manufacture the bandages. It has a large image of a bandage wrapped around the Hulk's finger. 
We assume that Bruce Banner already had a bandage on his finger before turning into the Hulk. When he did turn, the bandage didn't tear off like his clothes and instead stretched accordingly. 
The ad uses a famous character from the Marvel Universe to display how strong Band-Aid's bandages are!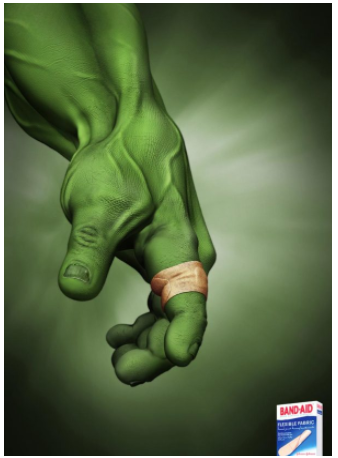 Veet: No Hair Is Better
Who would want hair bits on their soap? Of course, we all want to prevent our soaps from getting dirty due to hair. Veet cleverly used this fact to its advantage in its print ad.
As a hair-removing product, Veet emphasizes that it can help you get rid of all your hair and leave behind nothing. The ad shows an image of a clean white soap placed on a white soap stand.
Veet decided to use a white colour that looks similar to its logo. The image is plain and has nothing creative, yet it took everyone by storm by its message.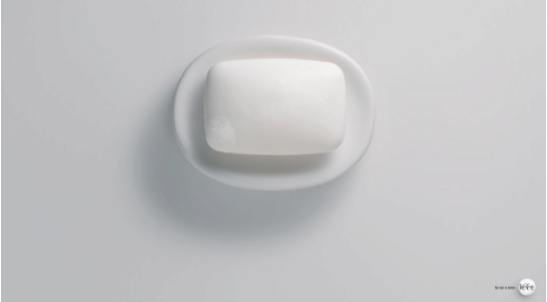 Sea Shepherd Conservation Society: You Eat What They Eat
This print advertising marketing strategy by the Sea Shepherd Conservation Society shows how humans dump plastic in the sea without thinking about marine life.
The SSCS is a marine wildlife conservation NGO that works internationally. It conducts many print marketing campaigns to depict how our actions are ruining everything under the seas.
The print ad has an image of a fish that looks more like a weird plastic bottle. It shows how dumped plastic under the sea affects the fishes negatively, and it's time to stop it.
Apart from the image, there is also an interactive headline- 'You eat what they eat.' This tagline tells you how eating fishes living in a plastic environment can be harmful to humans too.
The campaign also urges people to donate to SCCS and help clean up the oceans.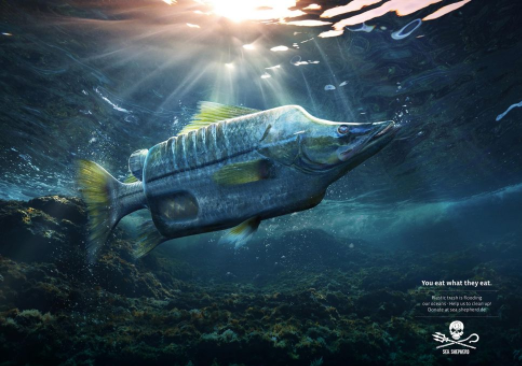 Jeep: See Whatever You Want to See
How great is it to have a vehicle that takes you anywhere you want? Jeep takes pride in its vehicles that can take you literally anywhere—from Hawaiin beaches to African deserts.
In one of its print advertisements, Jeep uses the tagline 'See Whatever You Want To See.' It means that you can go anywhere you like and get any view you want. Not just the tagline, the image also says the same thing.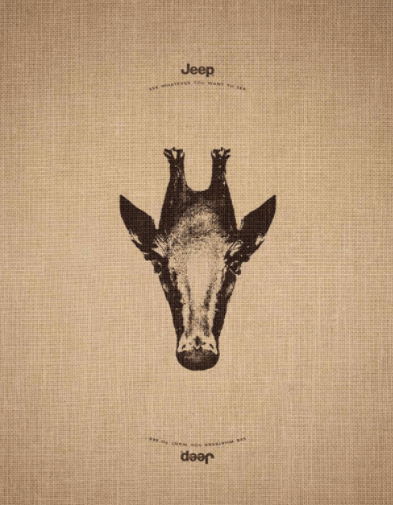 When you see it normally, it is the face of a giraffe that you will first notice. But, if you rotate this print ad, you can see a penguin. Similarly, other print ads by Jeep featured elephants, does, seal lions, and swans that change into different animals when turned upside down.
Gripex: Take a Breath
The objective of Gripex's print advertising campaign was to spread awareness about its allergy medicine.
Find below the image of Gripex's ad. It has a shadow image of a girl with a snuffly nose depicting allergies. There are only two bright colours used to make the image pop.
This print advert is yet another creative one that gives out the message through an image.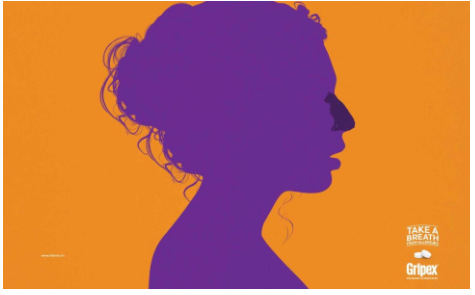 Orion Telescopes
Orion telescopes do not operate the same way as other telescopes. Their technology is much more advanced to do just the bare minimum.
See the image below where you notice that the telescope allows you to see the moon right from your home. Also, you can zoom in and see the flag that Neil Amstrong planted on it in 1969. You would think that it's fantastic how you can see the moon and the things there, but it doesn't stop there.
If you zoom in further, you can see that the flag has a 'Made in China' mark. That's how great Orion claims their telescopes to be.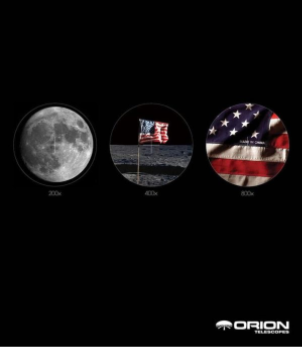 Conclusion
Print advertising has been around for a long time now and continues to get customers wonderstruck. It has all the qualities an excellent marketing channel should have in order to engage the audience and drive results.
Moreover, print advertising allows you to get back your marketing dollars through the campaign ROI, making it a good investment. It may have been untraceable and difficult to conduct in the past. But, today, it is fast, effective, and result-bearing.
Direct mail marketing is one of the best forms of print advertising today. Also, you can back it up with the latest digital tools like variable data printing, QR code tracking, etc.
PostGrid's direct mail API can help you conduct direct mail marketing campaigns in the comfort of your home or office place. All you have to do is integrate our API into your system to get started. Our range of features includes:
Data security
API integration
Industry best SLA
Personalization
Per piece tracking
Campaign insights and reports
HTML design templates
Also, we offer the most competitive prices in the market. With no minimum fees or commitments, you can conduct your direct mail campaigns at any time. Sign up here to see how we can help solve your customized print marketing needs!
Ready to Get Started?
Start transforming and automating your offline communications with PostGrid
SIGN UP
REQUEST A DEMO