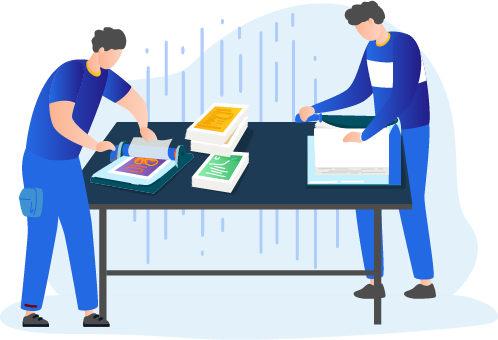 Print Media: Uses, Benefits, Types
It has become a norm for marketers to ignore print media when formulating new business marketing. But, is this new norm really beneficial for business organizations? Many believe that print media no longer has what it takes to succeed today because most of our interactions are digital.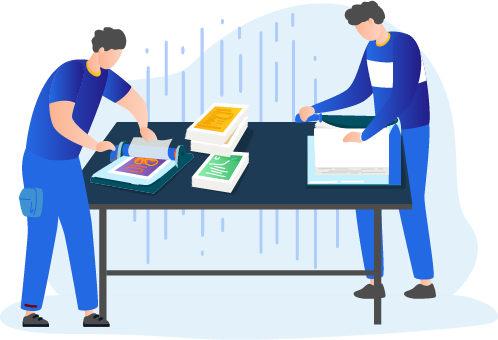 However, the truth of the matter is much more complex than that. Print media has unique features and benefits that are different from digital media. Furthermore, the hyper-dependency on digital media means the marketing competition in print media is significantly lesser.
Businesses can use the different types of print media available for efficiently marketing their products and services. This article explains the various benefits and uses of print media as a marketing channel in the competitive world we live in today.
Additionally, we will also explain the different types of print media and how you can use them to boost your conversions and optimize your marketing efforts.
Benefits & Uses of Print Media
Many businesses do not use print media for marketing anymore because they are worried that print media cannot compete with digital alternatives. However, the truth is that print media offers several benefits over digital alternatives.
Here, we will discuss some of the significant benefits of using print media for your business marketing.
The Frequency of Viewing is Significantly Higher For Print Media
Have you ever noticed that the digital ads you see usually tend to disappear after making an impression? The user may often see a relevant ad when they are mindlessly scrolling through social media apps like Facebook and Instagram.
But the user unintentionally navigates to a new page or scrolls past it because they are not in the mood to check it out. However, once you ignore that ad, it is virtually impossible to find it again. It is a common experience for many customers out there.
When you use print media such as direct mail for advertising, customers can frequently view it at their convenience. Postcards, flyers, etc., are viewed frequently by prospects, and they even tend to share them. After creating an impression, it does not disappear into thin air like digital ads. Print mail does its job right until it gets recycled or disposed of by the recipient.
You Get Complete Control Over The Visual Appearance Over Print Ads
Visual appearance is an aspect where you expect digital media to outperform print media. Although digital media lets you use videos, gifs etc., for your marketing campaigns, there are certain limitations to the things it can do.
Operating systems and browser configurations can often limit the control you have over your digital marketing campaigns. In contrast, print media lets you have complete control over the way your ads look. You can choose whichever typography, graphics, and colour choices you like without holding yourself back.
Print Media Ads Are Capable of Holding The Reader's Attention Longer
The digital media itself is a channel for distraction. As soon as the user opens up an article online or opens an app, they are bombarded with all sorts of information. On top of it, the user most likely has multiple tabs and apps open in the background.
Hence, it is not hard to imagine the user navigating away from your marketing message online because they received a text or notification from a friend. Therefore, it would take a minor miracle for the user to read your marketing message with zero distractions.
On the other hand, print media offers zero distractions to its audience. It doesn't matter if your marketing medium is a newspaper, direct mail, or poster. Nothing in the print media could take the reader's attention away from your ad.
Print Media is More Encouraging For The Audience For Taking Action
Nothing is more frustrating for the user than seeing a pop-up with that microscopic "x" as the close button. People have become so used to ads online that they have learned to ignore them almost subconsciously. They don't even bother to glance through the ad, let alone take action.
It is also common for people to employ ad blockers for a seamless browsing experience online. Therefore, many times, your ads may not even reach the target audience. Print media has no such problems.
Advertising via print media feels less intrusive and motivates your audience to take action. You can pitch a sale happening in your store and advertise the same in the local newspaper. The chances are that the prospect will likely visit your store if they are interested in the offer.
Marketing via Print Media is Significantly Flexible
Many marketers and business owners don't believe flexibility is not one of the advantages of print media. But, the truth is that as long as you know how to employ print media ads, they are incredibly flexible.
For example, you can choose which section of the newspaper/magazine you want the ad to appear in. So, if you own a sports store, you could have your ads printed in the sports section of the newspaper or a sports magazine.
If you want to take a more personalized approach to your print ad campaign, you can choose direct mail. You can even use a fully automated print and mail solution like PostGrid. A software solution like PostGrid lets you send personalized direct mail and have complete control over your campaigns.
Accurately Target The Audience For Your Campaigns
Another one of the benefits of print advertising is accurate targeting. You can either reach a broad audience through print media like newspapers or take a more personalized approach via direct mail campaigns.
Suppose you want to target a specific demographic such as ice hockey fans for selling ice hockey jerseys and other products. Then you can advertise your business or offer in "The Hockey News" magazine, a leading ice hockey magazine in Canada.
Unlike digital advertising, print ads do not get lost on the internet, nor are they held back by peculiar algorithms. If you have a quality mailing list, you can take a personal approach to your ads and send personalized postcards to your customers.
Print Media Ads Are Perfect For Boosting Brand Credibility
One of the best advantages of print media is that it can help you significantly boost your brand's credibility. Featuring your brand in reputable print media such as newspapers and magazines can effectively influence how readers perceive your brand.
Most people consider print media as a trusted source of information. Hence, if your brand gets featured in reputed print media, it becomes easier for the reader to trust your brand. In comparison, the consumer trusts online mediums a lot less than print media.
Customers are more reluctant to purchase from a brand that only sells and markets its product online. Publishing articles in print media such as newspapers and magazines can help you establish your brand as a subject matter expert.
Print Media Are Tangible and Provide A Sensory Experience
Print media ads are always tangible and give your prospects a sensory experience. Being able to touch something and feel it in our hands is often more satisfying than watching the same content on a screen.
Think back to all the times you picked up a random magazine just to flip through it, even when you had no intention of reading it. Similarly, it is satisfying to tear open an envelope whenever you get direct mail and see what's inside it.
No matter how hard you try, it is impossible to recreate the same or similar experience on a digital platform. At least, for now.
Also Read: Bulk Or Mass Mail Services
6 Different Types Of Print Media For Marketing Your Business
1. Direct Mail
Direct mail API is one of the most popular print media examples used for marketing today. It is ideal for businesses that want to target a specific audience. You can use personalized direct mail such as postcards to communicate directly with the customer.
Direct mail service is even more desirable as a marketing channel because it can be optimized using automated direct mail software. You can use tools such as PostGrid to automate your entire direct mail campaign. The system personalizes, prints and mails your postcards, flyers, brochures, etc., to your target audience with zero errors.
Also Read: Best Direct Mail Marketing Companies
2. Brochures
Brochures are perfect for explaining the details of a product or service that your company offers. You can print brochures in the form of leaflets or booklets. Brochures often come in a folded format to contain more information, and the customers can easily carry them around.
One of the advantages of brochures is that you can make them accessible to the target audience through different means. You can leave it around at reception or distribute it to people in an area that your target audience frequents. Additionally, you can also send it via postal mail via Canada Post.
3. Flyers
Flyers are similar to brochures, and they are one of the compelling print media examples you can use for marketing your products/services. One of the attractive design characteristics of flyers is their crip and precise nature.
They are designed to grab the reader's attention at first glance, and hence they are often more colourful and have a design that pops out. The primary difference between flyers and brochures is that flyers come in a single sheet and don't have any folds.
4. Billboards
Billboards are large prints and graphics that you usually place outdoors. The billboards are placed in strategic positions to get maximum visibility. Businesses often put it in high traffic or busy areas, including airports and train stations.
People passing by can easily see your billboards, and you can reach a diverse audience. Although the approach is not very targeted, it is still a great way to familiarize your audience with the brand. Furthermore, the massive billboards make it almost impossible for people to ignore them.
5. Magazines
Magazines are a great way to connect with your target audience. As far as the value of print advertising goes, it is one of the best you can find. It is perfect for establishing your company as a reliable and trustworthy brand.
Additionally, magazines can help you target your niche audience if they specialize in a specific subject matter. For example, if yours is a home furniture business, you can advertise in magazines like "style at home."
6. Newspapers
Newspapers are one of the oldest types of print media that is still popular as a marketing medium. Much like magazines, newspapers are also ideal for boosting the credibility of your brand. Furthermore, newspapers come in different types such as:
National newspapers

Regional newspapers

Weeklies

Sunday Editions
An advantage of using newspapers as your marketing channel is that it has a wide range of readers. It covers topics across all spectrums, including sports, business, fashion, etc. Hence, you can advertise pretty much anything in a newspaper.
Conclusion
The value of print advertising is often underestimated by marketers today. But, the truth is that if you use the print media right, then it can be the best thing for your business. There are different types of print media that you can use to advertise your business.
If you want to reach a wider audience, you can use newspapers for your print media ads. But, if you're going to target your ad campaigns to individuals, you need to use direct mail. Print media like direct mail offers a high response and conversion rate.
However, to get the most out of your direct mail marketing campaign, you need to employ automated print and mail solutions like PostGrid. It lets you personalize your direct mail letters, postcards, etc. You can also print and mail your ads directly to your prospects through PostGrid.
And the best thing about it is that you can automate the entire process, and you don't have to lift a finger. As a result, you can optimize your direct mail campaigns and get the best outcome for your marketing efforts.