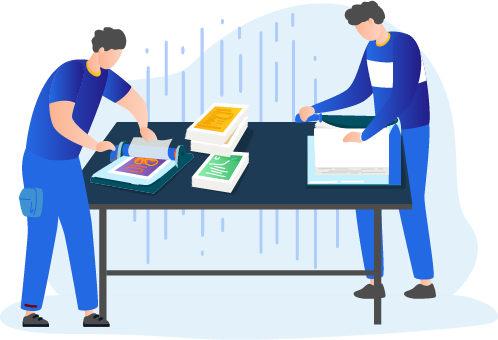 Types of Printing: Top 5 Methods to Improve Your Print Quality
The size of the printing industry in Canada is nearly $10 billion!
Most people think digital media is taking over, yet the print sector continues to thrive. Businesses and individuals have several types of printing options to help them get their designs on paper effortlessly!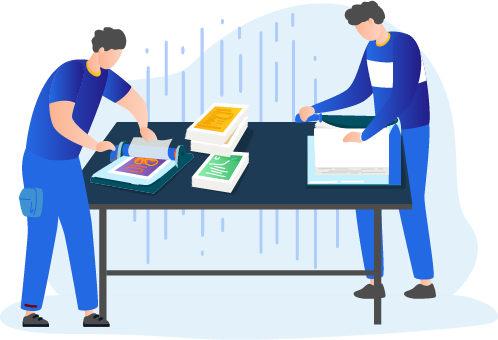 The good news is that you can combine printing with advanced technological solutions and get the best of both worlds. But how? The answer lies in web-to-print services that allow companies to use many types of printing online and print materials quickly and conveniently.
The problem is choosing the best printing method to increase print quality and improve brand reputation.
Our guide discusses the 5 types of printing that dominate the sector the most and help businesses communicate with their audience!
Let us begin!
Web-to-Print: What Is It and How Does It Benefit Companies?
All the top 5 methods of printing help businesses employ web-to-print solutions. Also known as Web2Print or remote publishing, it allows them to print digital artwork on clothes, plastic materials, paper stock, etc.
Web-to-print services make business communication much more effective by letting companies print whatever they need. For example, a B2C business may use one of the most commonly used types of printing to print and send discount coupons to prospects. 
This company can use postcard coupons or attach them to flyers or letters. It may also distribute these printed materials at an event or use them during a business conference. 
The point is- web-to-print helps employ the various types of printing to create items, like
Leaflets and pamphlets. 

Terms and conditions sheets. 

Registration and survey forms. 

Photographs. 

Newsletters and prospectuses. 

Invoices

and bills. 

Letterhead. 

Business cards. 

Monthly

statements

. 

Posters. 

Billboards. 

Event standees. 

Branded t-shirts, mugs, pens, notepads, etc. 

Labels, etc. 
There is no limit to what you can print because you have 5 types of digital printing options, enabling you to be flexible. You can also consider factors like costs, turnaround times, customization options, print surface, etc., to make a more informed decision!
5 Types of Printing Your Business Must Consider
Below, we have enlisted the top 5 printing options to help you understand the pros and cons of each method and choose accordingly:
#1 Flexographic Printing
Flexography is similar to letterpress printing and can help you print your artwork on uneven or rough surfaces. These types of printing are known for high press speeds and long runs. They use semi-liquid inks to help speed up the drying process and help you get your items in no time!
Printers recommend using the flexographic types of printing for producing materials with continuous patterns, like food packaging items, wallpapers, and wrapping paper. It is also an excellent choice for mini-print and floral designs, helping businesses print eye-catching marketing mailers. 
Flexography is among the top 5 methods of printing because it is cost-effective and produces high-quality prints. It uses photopolymer printing plates around rotating cylinders on a web press. The procedure involves copying the design on surfaces like cellophane, metallic film, plastic items, etc. 
The ink plates have embossed content images rotating at high speeds during printing. These movements help transfer the design onto the print media quickly, completing the process!
Best used for: Labels, branded items, packaging, and wraps. 

Pros: Flexography helps companies avail the fastest types of printing with quick-drying speeds at low operational expenses. Also, it can accommodate many inks altogether, making the process more efficient. 

Cons: The equipment for flexographic printing is high maintenance, and the setup can be time-consuming. 
#2 Screen Printing
Screen printing is one of the most versatile types of postcard printing options- that requires forcing paint through silk screens using a squeegee. The stencil holes in the screen enable the colours to pass through on the desired surface. 
In such types of printing, printers create and use a stretched-out mesh to apply various ink layers onto an object. They may use rotary or flat screens to complete the procedure. The screen has a wax resistor and blocks all the openings except the artwork area. Remember that you can use one screen only for a single colour. 
Screen printing is among the top 5 methods of printing because it is helpful to create high vibrancy—like printing light colours on a dark surface. Thus, the final product looks appealing and impressive, letting businesses use this method for event promotions and advertising. 
Best used for: Posters, banners, textiles, t-shirts, etc. 

Pros: You must consider screen printing among the best 5 types of printing because it gives high-quality outputs at reasonable prices. The method is durable and reusable, helping you segregate costs over time and get a positive ROI. 

Cons: There are limited colour choices, and you require high setup costs to buy specialist equipment. 
#3 Offset Lithography
Litho printing is an excellent choice for printing on rough surfaces like wood, canvas, apparel, etc. However, it is also in high demand for bulk production of stationery items, books, postcards, etc. 
Offset lithography or litho printing is one of the most versatile types of printing because it helps you print on all media. Also, mass-producing items allow you to distribute the costs evenly and save a lot!
The process requires the printer to use a metal plate to transfer the image to rubber rollers or blankets. Your paper stock or surface passes through these rollers, helping you get a high-resolution output, making lithography one of the best types of postcard printing methods!
The surface does not touch the metal plates, extending their life span and letting printers use the same equipment for years. And the flexible materials of the blankets allow lithography to print on uneven surfaces, something other types of printing cannot accomplish. 
Best used for: Postcards, greeting cards, stationery, books, magazines, wood painting, branded apparel, newspapers, and brochures. 

Pros: Offset lithography comes in the list of top 5 methods of printing because it lets you use custom inks and allows for cost-efficient large print runs. Also, it produces the highest quality prints, making it a preferred choice for almost all businesses. 

Cons: The equipment for offset lithography may require extra care, and the initial setup can be daunting. However, you can pass these costs to your printing vendor and continue using lithography as one of the best types of printing for your marketing and correspondence needs. 
Editor's Note: If you want to save more on printing expenses and streamline your tasks, try PostGrid's print and mail services. They allow you to incorporate variables into various types of printing and create compelling marketing items speedily and efficiently!
#4 Embossing
We all have received glossy invitation cards at some point with embossed names. Don't you agree that it adds to the sight and touch effects and makes these items worth saving?
Embossing is another fine choice when considering the different types of postcard printing for your marketing campaigns. This method involves creating sunken or raised designs on metal, paper stock, and other materials. 
Individuals prefer this method as among the top 5 types of printing to send invitations, holiday cards, etc. And businesses use it for all communication and advertising purposes. Unlike traditional white envelopes and postcards, embossed items garner more attention and drive engagement—improving your ROI. 
During the embossing procedure, printers apply fixed amounts of pressure on objects to leave behind marks upon releasing the tension. Many businesses consider embossing one of the most beloved and elegant types of printing to assist them in their marketing efforts. They can choose between 
Blind embossing: The surface colour matches that of the embossed marks. 

Foil block: The printer fills the embossed designs with metallic paints, including silver and gold.

Best used for: Invitations, stamps, notebooks, cards, paper cups, etc. 

Pros: Engages more human senses and increases response levels. 

Cons: Embossing can lead to wastage and is among the costliest 5 methods of printing choices. 
#5 LED UV Printing
The LED UV types of printing gained popularity because of their fast turnaround times and top-notch quality prints. They are a digital printing method that uses ultraviolet (UV) lights to dry the inks during printing. 
This drying or UV curing process is very different from other types of printing because it keeps the inks from sinking into the surfaces and offers instant outputs. Thus, printers no longer need to wait for the inks to dry, making the colours look better and sharper. 
The result? Companies don't need to plan their printing tasks days prior and can get instant results! Also, they don't have to spend too much to get high-resolution materials because the rates are reasonable. 
LED UV types of postcard printing are eco-friendly and use less power compared to traditional print equipment. Moreover, they are not limited to specific print jobs or print media types. 
Best used for: Leaflets, posters,

catalogues

, magazines, newsletters, etc. 

Pros: LED UV is among the top 5 types of printing because it helps create vivid colours and turn any material into a luxury item. Also, its versatility enables you to experiment with different promotional materials. 

Cons: LED UV printing needs high setup costs.
How PostGrid's Print and Mail Solutions Allow Businesses to Use the Best Types of Printing Options Online?
Our automated solutions help all organizations from different industries, like healthcare, insurance, retail, etc., print and ship high-quality items! 
You can align your printing and distribution tasks online using our API integrations or automation software. PostGrid lets you design your materials through a robust template editor, place orders for any volume, and get them printed in only two business days. You can add customizations and employ the top 5 methods of printing your materials!
Let us share a recent experience when one of our clients launched a successful Thanksgiving marketing campaign using the most attractive types of printing methods.
The client, a leading player in the eCommerce industry for the last 12 years, wanted to promote their Thanksgiving sales offer. They had to communicate with their existing and prospective customers and inform them that the 15% off sale is live on their website! Also, they didn't have any preferences for the types of printing and sought help deciding what could best represent their brand. 
When they reached out to PostGrid, they knew their campaign would be successful. Using our print and mail API, they automated more than 4,000 postcard mailings with different types of printing styles. They also used our software to trigger a campaign wherein every new customer got an additional 10% discount coupon at their address for the next purchase.
The motive was to increase Thanksgiving sales and create a solid pipeline for the upcoming weeks. And it was a hit!
Our client got a 50% response ratio and a 35% conversion rate, which was way more than expected. The best part is that they invested very little and only a few days to accomplish this massive target!
Final Thoughts
Businesses have multiple options regarding the types of printing according to their budget and requirements. However, it can be hard to make the correct decision because every method has advantages and disadvantages. 
We hope this blog guides you to know your options better and create eye-catching materials. You can use PostGrid's print and mail solutions and save half your time while enjoying more than desired results!
Request a demo now to see how PostGrid enables select from the best types of printing and launch direct mailing campaigns affordably!