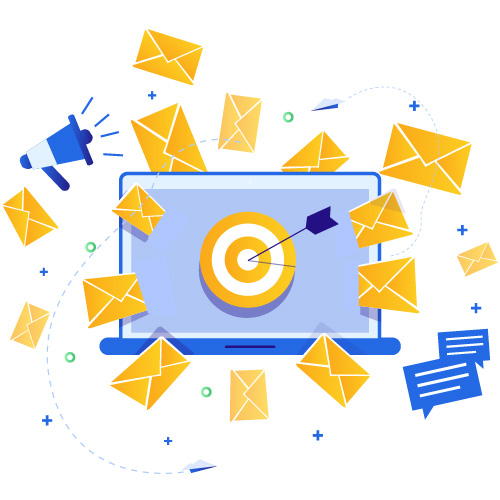 A Guide To Direct Marketing: How to start it, Advantages, Examples, and More
It is no secret that personalization and proper targeting are crucial for the success of a marketing campaign. Perhaps the only marketing strategy that whole-heartedly accepts this fact is direct marketing. Yet, many companies are still not using it for their business.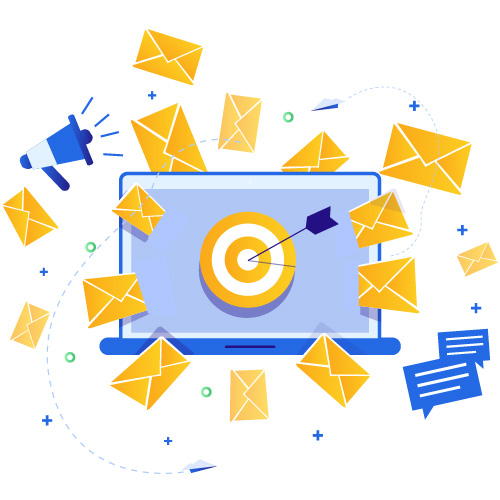 If you are among one of these companies, then it is high time you reevaluate your marketing decisions. Here's the scary part: every day you spend without direct marketing is a day gained by your competitors. Talking about your competitors, they could be using direct marketing to get closer to your target audience with them even as we speak.
Hence, it is high time that business organizations better understand direct marketing and how it can benefit their business.
What is Direct Marketing?
In essence, direct marketing is a type of advertising that targets specific consumers or consumer groups instead of the masses. It is the more personalized approach of marketing where you communicate directly with the target audience, which effectively gets rid of the middleman.
Direct marketers aim to persuade their target audience into taking the desired action. The desired action could be placing an order, visiting your website, filling out a form, etc. What's more? You can use numerous formats for marketing your products/services to your target directly.
Some of the most commonly used marketing formats include:
Direct Mail

Telemarketing

Social Media Ads
Why Does Your Business Need Direct Marketing?
You would be wrong if you think that direct marketing is yet another marketing strategy for boosting sales and generating leads. Marketing your business directly to your customers offers numerous advantages that make marketing management easy.
Efficient Strategy For Promoting Products and Services
The most distinguishing aspect of direct marketing is that it does not target the masses, unlike standard marketing strategies. The highly targeted nature of directly marketing your business enables you to target an audience genuinely interested in the product or service.
As you can guess, better targeting leads to better leads, which eventually leads to more sales and conversions. Hence, marketing your business directly to the customers boosts the efficiency of your marketing efforts significantly.
Customized Marketing Campaigns
The chances are that you are already using an indirect marketing strategy for your business. Did you ever notice that indirect campaigns always use the same marketing message for all your target audience? How well can a generic message resonate with the target audience? 
You can create a personalized marketing message for group or individual audiences with properly executed direct marketing plans. For instance, your company can target customers based on their age, income range, etc. Using such extensive data can create relevant marketing messages for your existing and potential customers.
Measure The Success of Your Marketing Campaigns
Measuring the success or efficiency of your marketing efforts is a must if you want to yield better marketing results. Without a personalized approach to marketing like you have in direct marketing, you can't get a comprehensive picture of your campaign's effectiveness.
So what does all this mean? It means you can analyze aspects such as the response rate for each specific channel, the revenue it generates, and the ROI. Furthermore, it helps you understand how much your target audience is willing to pay for particular products or services.
Conveniently Reach Your Target Audience
Looking at your existing or old indirect marketing channels, you notice that it doesn't leave much room for flexibility. It is more likely that you have to meet the demands of the middleman for executing your marketing campaigns. 
In contrast to this, your direct marketing plans are significantly more flexible and convenient. For example, if you are looking for a higher response rate, you can use direct mail for your campaigns. But, if what you want is speed or shorter execution time, you can opt for an email marketing campaign.
Advantages of Using Direct Marketing For Your Business
It is not easy to list all the advantages a business organization can get from employing direct marketing campaigns. However, below we have compiled a list of the most significant benefits of direct marketing for your business.
Targeted Ads
Targeted ads always drag in better results for your business than non-targeted ads. As we have already discussed, targeted ads refine who sees your ads or marketing content. Only the people who are likely to be interested in your product or service see your ads.
In short, targeting specific groups of customers with a direct marketing message is more likely to generate quality leads. For instance, consider a real estate business – they are likely to generate more quality leads by targeting buyers and sellers within their area of operation.
Budget Marketing
As a business organization, you would have unquestionably come across situations where you have had to cut down on your marketing expenses. Directly marketing your business does not merely help you minimize your marketing expenses.
It helps you set up ambitious yet realistic goals for your marketing campaigns. As a result, direct marketing enables you to improve your sales despite having a relatively low budget for marketing. Compared to broadcast promotions, marketing directly to the target audience costs significantly less.  
Increase Sales to Existing and Past Customers
Many marketers assume that the customer, by default, doesn't welcome businesses to interact with them. But, the truth is that customers value companies that understand their customer's needs and build a personal relationship with them. 
Direct marketing is perfect for targeting your existing and past customers. Why? Because you already have the information of what kind of products your customers like. Hence, it is not hard to find the right products and offers that can catch the customer's attention. 
Furthermore, it will also help your business find out why some of your customers decided to move on to a different brand. More importantly, it lets you find out what it takes to re-establish your relationship with lapsed customers.  
Boost Customer Loyalty
As you saw in the section above, direct marketing plays a significant role in maintaining good relationships with its customers. When you are marketing your products or service directly to the customer, you can personalize both the message and the offer. 
It also means that you can link the offer in your marketing campaign with the customer loyalty program. Sending birthday cards, inviting the customer to a sales event, and offering loyalty points are some customer loyalty strategies that you can use.
Ideal For Launching New Products or Services
If you want to market a new product or service that you intend on launching to the market, direct marketing is the best choice for you. What makes direct marketing the perfect launching pad for your business's new product/service is obvious. 
It is no secret that the communication between a business and its target audience is much more effective when it is direct. Using a personalized approach works best for your customer acquisition programs as it can generate authentic leads. If that's not enough, direct marketing also helps businesses adapt to the market demands and adopt an approach best suited for it.
Ideal For Measuring Product Demand
Nothing can give your business an edge over its competitors than understanding the product's demand in the market. No matter how good your product or service is, it will fail if it does not meet the consumer's demand. Furthermore, it also lets you:
Try out your product in new markets

Evaluate the sales trend and results

Evaluate the effectiveness of their marketing strategies
As a result, you can easily modify your marketing campaigns and ensure their good performance. Therefore, direct marketers must monitor and analyze their marketing efforts to optimize them. 
Types of Direct Marketing
What makes direct marketing an ideal marketing strategy is that you can implement it using different formats or channels. You can market your products or services directly to the target audience using offline and online communication channels. Here are various ways that are most effective in selling your products or services straight to the target audience.
Direct Mail Marketing
Direct mail marketing is one of the best ways for businesses to reach out to their target audience. Despite what you may have heard about offline marketing channels like direct mail, they are not dead. In fact, offline marketing channels like direct mail are perfect for your direct marketing campaigns.
Why? Because the digital marketing sphere is already filled to the brim with marketers trying to catch the audience's attention. If that's not enough, direct mail marketing offers a higher ROI potential than most advanced marketing strategies.
Additionally, using an advanced direct mail automation tool like PostGrid gets advanced capabilities. We have made a list of methods you can make your direct mail marketing more effective, and you can read all about it direct mail marketing here. You can use PostGrid for printing all kinds of print media for marketing your business, such as:
Postcards 

Brochures

Product catalogues 

Flyers

Letters 
Advantages of Direct Mail Marketing
It offers significantly higher open and response rates than other

direct marketing

methods.

Postal mailers are hard to ignore and can form an emotional connection with their recipients.

You can personalize postal mail materials such as postcards using advanced tools.

Bulk mailing is an easy and convenient way to target existing and potential customers.

Advanced direct mail tools like PostGrid help you track and analyze direct mail campaigns.
Email Marketing
In a way, Email marketing is the faster version of direct mail marketing. It is also one of the most commonly used direct marketing plans companies use. In terms of speed of execution, email marketing is much faster than direct mail marketing. 
However, email marketing is not as effective as it once was. One reason is that almost every mainstream company now uses email marketing. The customers are bombarded with one marketing email after another. More importantly, it is easy to ignore emails and leave them unread forever.
You can use this type of direct marketing to send all types of marketing materials, such as:
Newsletters

Sale notifications

Updates on products and services
Advantages of Email Marketing
Email marketing is inexpensive for business communication and nurturing leads.

Web push marketing is an easily trackable

direct marketing

method. 

Email marketing is easy to evaluate and optimize.

You can link email marketing with different types of tracking and metrics tools.
Web Push Marketing
Web push marketing involves using the customer's stored information in the browser to send relevant push notifications. In most ways, web push marketing is similar to push notifications on mobile devices. The only difference is that the notices are sent to the target's desktop or laptop instead of mobile.
These are the same notifications that you might have noticed popping out on the corner when browsing through websites. The push notification can be about anything, including:
Active sales and offers

Launching of a new product/service

Newly published article

Invitation to an event the company is a part of
The direct marketing method helps your business establish direct contact with the target audience. It does so by providing relevant information to the user in real-time.
Advantages of Web Push Marketing
It is easier to implement than other

direct marketing plans

.

Web push marketing is relatively inexpensive.

It enables you to send notifications to the target in real-time.
Mobile Marketing
Mobile marketing is one of the most popular direct marketing plans available for business organizations of all shapes and sizes. It involves all communication with the target audience through their mobile devices. Some of the most widely used mobile marketing strategies are
Text messaging

Push notification
Mobile direct marketing usually includes sharing links, discount codes, etc., with the customers, which leads them to business websites. It is an effective marketing strategy in a day and age where a good amount of our time is spent on mobile phones.
When implementing mobile marketing for your business, it would help to analyze your target audience. For example, a deep analysis of the target audience can reveal when the audience actively uses mobile devices. Once you have that information, you can easily pitch relevant offers or content to the target.
Advantages of Mobile Marketing
Mobile marketing lets you easily share links, discount offers, and more with your target audience

It is the best way to grab the target audience's attention through digital channels

Mobile

direct marketing

boosts your chance of generating leads

Implementing mobile marketing for your business is relatively easy and affordable
Messenger Marketing
As you can guess from the name, messenger marketing uses various messaging apps such as Facebook/Meta messenger, WhatsApp, Telegram, etc. These apps let your company send direct messages to the target audience. Generally, it involves a hybrid of text message and email.
Messenger marketing is often considered a more subtle way to reach the target audience. What does that mean? It means it is a direct marketing method you can use for collecting more personal details of the target, such as their phone number and addresses.
Hence, it is no wonder that many B2B companies are in love with messenger marketing as they often need an initial touchpoint. They can use messenger communication to nurture leads and establish dynamic relationships with prospective buyers.
Advantages of Mobile Marketing
It is a less intrusive form of

direct marketing

, which is often beneficial to B2B companies

Messenger marketing is perfect as an initial touchpoint and for familiarizing your brand

The chances of the customer opening and reading marketing messages are relatively high

You can use messenger marketing to collect more personal details from the prospects
Telemarketing
Telemarketing is perhaps the oldest direct marketing strategy in this list other than direct mail. Although telemarketing is not as popular as it was back in the days, it is still an effective marketing strategy. As you know, telemarketing involves contacting prospective customers directly via phone.
It can be an extremely effective marketing strategy if you have the right people for the job. However, several countries have a do-not-call list that lets individuals opt out of unsolicited sales calls. Hence, it might be hard to get the full potential out of your telemarketing campaigns.
But, if you want to target people with whom you already have an existing relationship, the opt-out facility won't be a problem. Furthermore, a significant portion of the target audience generally doesn't go through the trouble of adding themselves to the list. 
Advantages of Telemarketing
It is one of the most effective

direct marketing

strategies to reach your target audience

Telemarketing can effectively tell whether the marketing message was received or not

The result of telemarketing campaigns is easy to measure and attribute

It is perfect for reaching out to your existing and past customers
Social Media Marketing
Social media marketing is by no means a new concept to marketers. It is one of the most effective direct marketing strategies to help your business achieve the desired result. The target audience uses social media platforms regardless of their age or economic background.
Furthermore, social media platforms like Facebook offer superior targeting features. You can ensure that your marketing ads always reach the right audience when you have such advanced targeting capabilities. 
Did you know that several companies depend solely on social media marketing to generate leads and sales? Yes, that's how effective social media marketing can be as long as you execute it right.
Advantages of Social Media Marketing
Social media marketing is easy to implement and available on various platforms

It ensures your

direct marketing

is based on the target's taste and needs

Tracking and analyzing social media marketing is simple

It is relatively easy to find your target audience on social media platforms and target them

Social media platforms offer advanced targeting and analytic capabilities
Direct Marketing vs Indirect Marketing
The main difference between indirect and direct marketing is their targeting. When marketing directly to the customers, it is either for an individual customer or a highly targeted customer group. Whereas, in indirect marketing, the marketing message is broadcasted often randomly. 
But what other differences do the two marketing techniques have? The following table will help you understand the differences between direct and indirect marketing.
Direct Marketing 
Indirect Marketing

Marketing results are obtained faster in

direct marketing.

Marketing results are easy to measure and attribute.

The time required for successful marketing is relatively low.

It enables your business to identify specific audience segments.

It personalizes your marketing messages and builds stronger relationships with individual targets.

You can collect valuable data and feedback from the customers.

It takes time to see any visible change in results using indirect marketing.

Marketing results are not easy to measure or attribute.

The time required for successful marketing is relatively high.

It is usually considered best for building your brand's reputation among the masses.

Usually, indirect marketing is less expensive than

direct marketing

.

It is better used as a long-term marketing strategy.
How To Start A Direct Marketing Campaign For Your Business?
You have already understood how promising it is to market your product/service directly to customers. And you are probably wondering how you can get started on direct marketing advertising for your business. The following pointer should provide you with every information you need for that. 
Step 1: Choose The Best Marketing Method For Your Business
The first thing you need to do before implementing direct marketing for your business is to decide on the ideal marketing method. Now the best marketing method for your business can vary depending on the various factors such as your
Budget

Target audience

Target demographics
Let's take the example of the real estate business again. A well-designed direct mail postcard campaign is the best direct marketing method for real estate businesses to target their prospects. Why? Because it lets realtors target people within their farm area and can include attractive images of the property. In addition to this, realtors can even employ specialized direct mail services for the real estate business. 
Step 2: Create a Targeting List
Once you have picked the suitable direct marketing method for your business, you can create a targeting list. If you are unsure about how to create a targeting list, start with the data you have on your existing customers. You can segment your current customers into smaller groups.
Some of the factors you can use for segmenting your target audience are
Age

Income

Occupation

Location
Understanding your target audience is essential in creating an effective marketing strategy and message for your business.
Step 3: Create Your Direct Marketing Material
Again, creating the marketing material for your business can vary depending on what marketing method you choose. For instance, if you are using direct mail marketing for your business, you may have to consult with a designer or a direct mail company.
Furthermore, you may also use advanced automation tools like PostGrid for designing and printing personalized mailers. Similarly, all direct marketing plans can be streamlined and simplified using advanced tools with automation capability.
One of the recent projects we undertook required us to programmatically automate the workflow of our client's direct mail communications. We were able to use our direct mail automation system to significantly reduce the manual errors in the process. Our solution also ensured that our client could easily send 1000 – 3000 mailings a month, which affected their retention and response rates positively.
Step 4: Ensure You Can track Your Direct Marketing Campaign
Tracking your direct marketing plans is a must regardless of your marketing method or strategy. Thankfully, it can be easily implemented by adding results trackers to your marketing campaigns. For example, you can add scannable QR codes or promotional codes to your direct mailers as a results tracker.
Now, if you are dealing with email campaigns, you can add pixel code to the emails for tracking your marketing campaigns. The pixel code lets you know every time someone clicks on the CTA and navigates to your website. Similarly, you must add a relevant results tracker to your direct marketing plans.
Step 5: Test Your Direct Marketing Campaign
Testing is an integral part of every marketing campaign, and it is no different for your direct marketing campaign. You can test your marketing campaigns by selecting a small batch or group of the target audience for sending your marketing material. 
After they receive your marketing material, you can check their response. If a significant portion of the batch responds to your marketing message, you can consider sending the marketing mailer to a larger audience. And, if you do not receive the desired response initially, you may have to make adjustments to your marketing material.
Step 6: Analyze Your Results
Merely testing your direct marketing campaigns is not good enough to make them successful. You also need to analyze the data you get from the tests. But, before you begin studying your marketing campaign, you need to ensure that you give the campaign enough time to run.
Some of the factors you need to analyze are each campaign's response rate and marketing material. Comparing campaign results against your lead generation and revenue would also be best. Furthermore, the analysis should be carried out throughout a specified time, like a month or two. 
Direct Marketing Examples
We hope that you know all there is to direct marketing and how you can implement it for your business by now. Now, let's take a look at some direct marketing examples that can help you along the way and optimize your marketing efforts.
#1 Touch Branding
Touch Branding is a leading branding agency based in Prague with extensive experience in global marketing campaigns. A direct mail campaign is one of their notable marketing projects that directly target the target audience. It carried a peculiar tagline, "We'll give our blood for good branding."
Of course, it also had relevant graphics that supported its marketing message and tagline. The direct mail had a picture of a blood bag. And the marketing tagline was printed on the blood bag rather than on the background. Interestingly, the company supported the direct mail campaigns with an email campaign and banners on their website.
#2 Canva
There is a good chance that you or someone at your organization has already come across one of Canva's direct marketing emails. Whenever Canva creates a new design concept, they market it to all their subscribers.
Every subscriber receives an email informing them about the new design concept and how they can use it on presentations and infographics. It is a simple and effective way to market a product, and Canva often backs it with minimalist content that communicates everything the recipient needs to know.
Conclusion
There is no question about the effectiveness of direct marketing plans. It offers a more personalized and targeted approach to marketing that is bound to bring positive results. Businesses have numerous reasons to market their products or services to the target audience and few reasons not to do it.
Furthermore, businesses can use online and offline channels for marketing their business directly to the customers. Offline marketing channels such as direct mail offer superior marketing capabilities. It is especially true when employing advanced tools like PostGrid.
Automated solutions like PostGrid ensure easy and convenient execution of your direct marketing plans. In addition to this, tools like PostGrid also help you analyze your marketing performance and systematically perfect your strategies.
Similarly, every direct marketing campaign can be optimized with the right tools. We could go on and on about the benefits of marketing directly to your target audience, or you could try it and see the results.