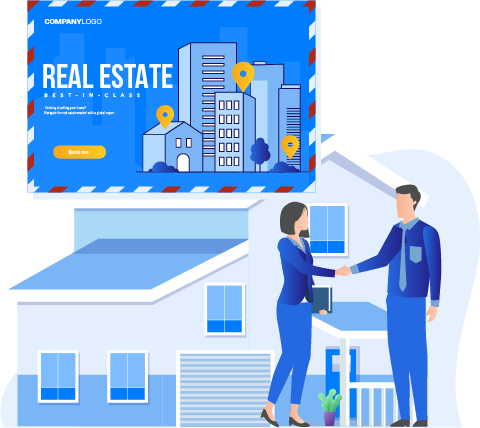 Real Estate Postcards: 10 Real Estate Postcard Ideas For Success
The real estate industry struggles to generate and maintain quality leads. A well-crafted and personalized real estate postcard could be the way out of this trouble that real estate businesses face.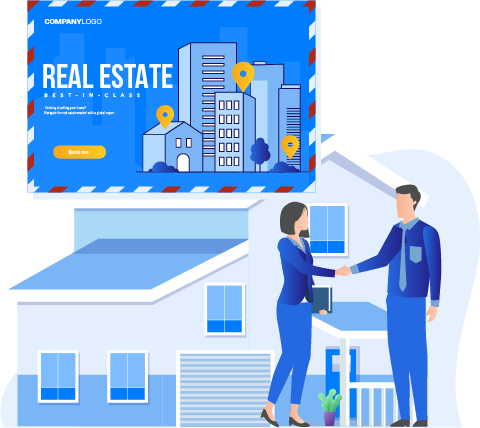 The real estate industry has always benefited from direct mail postcard campaigns. However, implementing a postcard marketing campaign is not easy without the right set of tools and strategies. Below, we explain how and why real estate businesses need to employ postcards for generating quality leads.
Additionally, we list some of the most effective strategies and postcard ideas to help real estate businesses. Finally, we also look at the design consideration for creating a successful real estate postcard that resonates with the target audience.
Why Should Real Estate Businesses Use Direct Mail Marketing?
There are many benefits of employing direct mail marketing for businesses. You may already be aware of some of these benefits. Some industry verticals, including real estate, often benefit more from direct mail campaigns than others. The significant benefits of using real estate direct mail postcards are as follows.
Get Noticed By More Families
Postcards are a great way to get your real estate business noticed by families. You can use customized real estate postcards to target families in specific geographical areas. Furthermore, your postcard can house pictures of listed properties best suited for families.
If the property you feature in the postcard piques the audience's interest, they are more likely to hold onto it. It wouldn't be surprising if these families stuck the postcard to their refrigerator because it is their dream home.
Fast, Affordable, And Effective
Postcards are perhaps the most simple and easy to create direct mail for marketing a business. Real estate marketing cards are even easier to make with the help of a direct mail management software like PostGrid.
Advanced solutions like PostGrid even provide you with free postcard templates for your campaigns. You can also use your in-house design team to create a custom postcard design and have it printed and delivered with an automated system. 
Target Your Real Estate Postcards
It becomes significantly more manageable for you to target your real estate direct mail campaigns with advanced direct mail solutions. Advanced direct mail automation tools like PostGrid even have a geocoding feature that lets you target specific geographical areas.
Real estate businesses can use advanced targeting to identify areas with potential buyers and sellers. You can also send your real estate postcards based on demographic data such as age, income, family size, etc. 
Also Read:
Targeted Direct Mail Lists for Advertising
Real Estate Postcards Are Trackable
Another advantage of using an automated direct mail tool for printing and delivering your real estate direct mail postcards is trackability. With direct mail automation, you access advanced insights and tracking features that let you keep track of every minor detail.
Hence, the success of your direct mail campaign is easily measurable. You can get the exact number of postal mail you sent and track the number of new leads you harnessed through the campaign. Most advanced direct mail service providers, including PostGrid, have a dedicated dashboard for quickly accessing such information.
10 Real Estate Postcard Ideas For Your Business
We know that real estate postcards are an effective way to reach out to your target audience. However, to get the desired results you are looking for, you need to implement real estate postcard ideas that work. Some of the most effective postcard ideas for real estate businesses are listed below.
1. Real Estate Postcards For Just Listed Properties 
The real estate industry often uses postcards for marketing their newly listed properties. It is an effective way for real estate agents and companies to pitch a property to prospective buyers and generate quality leads.
The best thing about this type of real estate postcard is that you can send one every time you have a new listing. Hence, you can maintain regular communication with the target audience and let them know about successful ventures. As a result, real estate postcards can attract both buyers and sellers to your business.
2. Real Estate Postcards For Open Houses 
Open houses are also an excellent occasion for sending real estate direct mail postcards to your target audience. It is best to use the open house postcards for inviting prospective buyers to the property and neighbours. Additionally, make sure to send the postcard the same week as the open house.
It lets you show your prospective sellers that you are committed to selling the real estate properties you undertake. The open house postcards can also help you boost the attendance of your open house events and enhance your reach.
3. Real Estate Postcards For Just Sold Properties  
The "just sold" postcards are ideal for generating new real estate leads for your business. However, there is one significant difference between just sold and just listed postcards. The former is only appealing to the sellers, unlike just listed postcards which can appeal to buyers and sellers.
Like just listed postcards, you can send the just sold postcards whenever you close the deal on a real estate property. By the end of the day, both just listed and just sold postcards serve the same purpose: to make your presence known in the neighbourhood.
4. FSBO Real Estate Postcards
FSBO (For Sale By Owner) real estate postcards help you generate new seller leads by pitching them exclusively with FSBO properties. The FSBO postcard is a great way to show other potential FSBO sellers the extent to which you are willing to sell their property.
Try focusing your postcard message on how you help FSBO sellers overcome the challenges involved in selling a home. Mention some of the issues real estate sellers face in your mailer, but always ensure that focus remains on the solution you offer. 
5. Real Estate Postcards For Offering A Service 
One of the best ways to generate new seller leads in real estate is to offer something extra to the audience. For retailers and eCommerce businesses, it means sending discount coupons or vouchers to their customers. But, the offer on real estate postcards is slightly different.
For example, you can offer a free market analysis in your direct mail postcards. It adds more value to the postcards you send to your prospects. Offering a free, comparative market analysis or CMA to your real estate prospects effectively engages with your target audience.
6. Real Estate Postcards For Expired Listings
The expired listing real estate postcards are perfect for you if you want to generate new seller leads. You can send this postcard type to your prospects every time a listed property expires. However, it may be tricky to learn how to convert expired listings to relevant leads. 
You need to get the right messaging and timing to generate leads from expired listings. For better messaging, try to cover the pain points of the sellers and identify with their needs. Explain how you understand the problems they face and present a way in which you can help them.
7. Real Estate Postcards For Rental Communities/Potential Buyers
Targeting rental communities and potential buyers every once in a while with your real estate postcards can help you generate new buyer leads. Real estate businesses often overlook rental communities. However, the truth is that rental communities are hot spots for prospective real estate buyers.
Many occupants in a rental community are potential first-time real-estate buyers. Hence targeting your real estate business's marketing efforts toward rental communities can significantly boost your ROI. Furthermore, you can also try personalizing your real estate postcards that better align with your target community. 
8. Stalled Funnel Real Estate Postcards
Stalled funnel postcards for real estate businesses help to generate new seller leads. Real estate businesses can often find prospects hovering over their lead funnel but never really entering it. Hence, real estate postcards can be just the thing you need to nudge such prospects right into the lead funnel.
However, you would need to personalize your messages to make your postcards effective and create an impact on the prospects. It can be challenging to personalize each postcard, especially in bulk mail campaigns.
Hence, it is best to use an automated system like PostGrid to print and deliver personalized postcards. You can connect your CRM to an advanced direct mail automation tool like PostGrid for effortlessly personalizing your postcards.
9. Real Estate Postcards For New Agents
The real estate industry is seldom kind to newcomers or beginners. New real estate agents or companies must get the word out about their new business. You can implement this type of real estate direct mail postcards anytime during the first year at a new office.
It is an effective way to familiarize yourself and your brand with prospective clients. Choosing a positive and optimistic approach for your new agent postcards would be best. It is always better to go with an extensive mailing list in such cases. 
However, you are more likely to get a response if the audience already has a rough idea of who you are and what you do.  
10. Real Estate Postcards Buyers On The Fence
The buyers on the fence are also another niche of real estate prospects that sometimes don't get the attention they deserve. When a real estate buyer does not feel it is urgent to make a buying decision, they linger around and look for other options they can consider.
Real estate postcards are a great way to target the real estate buyers who are still on the fence and create a sense of urgency. You can pitch this type of postcard to all your real estate clients who are slow in responding to your communication efforts.
Similarly, you can also target prospective real estate buyers who did not show up for the open house event. As a result, you can boost your response rate and always stay on top of the prospect's mind.
Additional Real Estate Postcard Ideas
Above, we saw some of the most effective postcard marketing ideas you can use for your real estate business. However, there are numerous other real estate postcard ideas you can implement for your business. Some of the other direct mail postcards you can send to your target audience are as follows.
Referral generation postcards

Home purchase anniversary postcards

Special occasion/event postcards
Design Considerations For Creating Real Estate Postcards
The design of your real estate postcards plays a vital role in the success of your direct mail campaign. An attractive design can grab the recipient's attention and convey the message of the postcard in a single glance. 
Having poor design elements on your postcard would make it challenging to grab the recipient's attention, and they end up straight in the bin. Here are some of the design aspects you can implement on your postcards so that they can generate the desired result.
Use big, bold, and clear images

Use a high-quality headshot

Provide the relevant contact information

Tell the recipient what they need to do next with a clear CTA

Include your brokerage information in the postcards.
Conclusion
Real estate direct mail postcards are the perfect tool for real estate businesses to reach out to their target audience effectively. It enables real estate agents and companies to get noticed by more relevant prospects and generate valuable leads.
However, printing and delivering personalized postcards is easier said than done. You need an advanced direct mail automation solution like PostGrid to send postcards in bulk to your prospective buyers and sellers.
With advanced automation software like PostGrid, you can easily print customized real estate postcards for your business. Furthermore, you can use PostGrid's direct mail tool for streamlining the other direct mail communication of your real estate business. 
For example, sending regular direct mail communications, including Adverse action letters, collection letters, etc., can be optimized with PostGrid's direct mail tool. Hence, real estate businesses must invest in a reliable direct mail automation system like PostGrid.