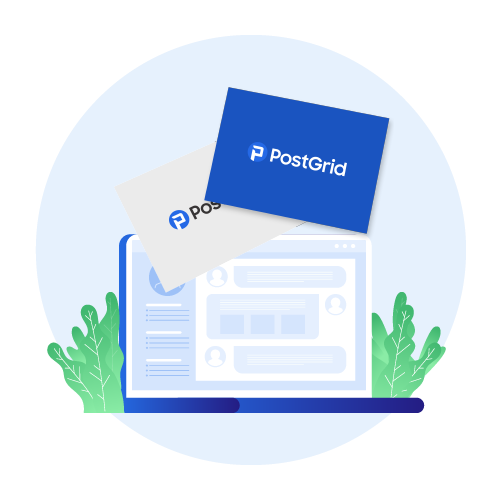 Postcard Marketing 101: Best Practices & Ideas to Increase ROI
Direct mail marketing is one of the best ways to connect with your target audience personally. You can print and mail your marketing collateral with personalized messages to them. It can improve credibility and increase brand awareness.
Out of all the direct mail items that you can send out to your prospects, postcards are your most cost-effective and productive choice.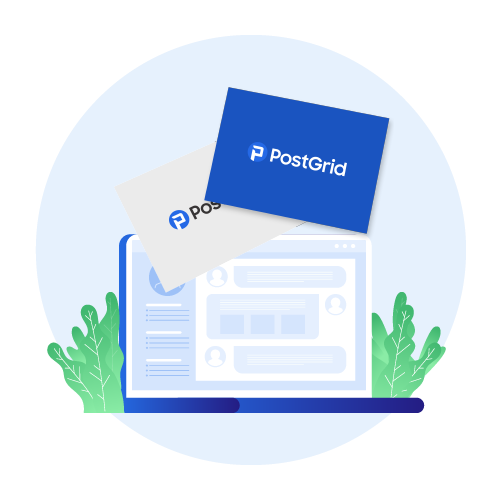 It is easier to design postcards as compared to other items. They are small and compact and are extremely attention-grabbing. All the recipient has to do is turn them over and read your message.
Since you don't require envelopes to mail postcards, you save additional costs. But, make sure to follow the Canada Post postcard specifications so that you can avail of their first class rates.
Postcard marketing can help you communicate about your products and services to a relevant audience.
In this blog, we will find out how to minimize postcard marketing costs along with discussing best practices and use cases.
Why Should You Use Postcard Marketing?
As we said above, postcard marketing is your most affordable option. Their size is small, which cuts down your print and mail costs. But, there are several more reasons why postcard marketing can take your business to great heights:
Postcards are Memorable
Most people stick postcards with impressive backgrounds to their refrigerators. Others pin them to their boards. It is because people like receiving postcards in the mail. They find the postcard design and layout appealing.
Postcards Have a High Open Rate
About 42.2% of direct mail recipients go through their mail. As a result, direct mail has high open and read rates.
Direct mail postcards too can generate high open rates as they aren't enveloped. This also increases the chances of recipients reading your postcards.
Postcard marketing companies can help you design eye-catching postcards that cannot be missed.
Postcards Can Produce High Response Rates
The response rates of direct mail campaigns depend on various things. If you use a house mailing list, chances are your response rates will be high. It also helps if you segment your audience according to your buyer persona.
Postcards can get a response rate as high as 4.25%. You can work towards increasing it even more by focusing on your copy, design, and offers.
Also Read:
What is The Average Direct Mail Response Rate?
Postcards Create a Nostalgic Effect
Postcards are an excellent means of communication between individuals and bring them closer. Hence, most people think that postcards are only used for informal communications.
But, do postcards work for marketing? The clear answer to this question is yes.
Marketing postcards talk about a brand and explain its offerings to prospects. They can turn prospects into customers by motivating them to buy from you. Postcards have great convincing power as they create a nostalgic effect. They add an emotional touch to your communications and create personal bonds.
Postcard Marketing Can Be Combined With Other Channels
You can reinforce your message by using postcard marketing along with digital marketing. Since postcard marketing is relatively affordable, you can save your marketing budget and invest in other channels.
Set up an email drip campaign or run simultaneous social media ads to increase the impact of your campaigns. Either way, such omnichannel marketing plans can help you get better results.
Marketing Postcards Are Long Lasting
Have you ever seen an Instagram post with an exciting offer but forgot to save it? Companies lose a lot of potential customers because they forget to save the post for later. But, that cannot happen with postcard marketing.
With postcards, you give recipients something tangible to remember your brand by. They might also share your postcards with their family and friends. This increases visibility and can drive engagement.
Top Postcard Marketing Ideas to Increase Your ROI
Personalize Your Marketing Postcards
It depends on your marketing ideas whether your postcards will be saved by your recipients or tossed in the bin. Remember that even though direct mail receives less competition, Canadians receive a lot of mail almost every week.
Hence, it is important to stand out from the competition. Make your postcards different and worth noticing. The best way to accomplish that is personalization.
All marketing postcards that work are personalized. They at least carry the first name of the recipient to create a better impact. People are likely to notice and pay attention to postcards with their names on them and ignore the generic ones.
Personalization makes people feel special. They are likely to appreciate your gesture and respond to your postcards.
Apart from the name, you can use other variable tags. For example, a car wash service can send postcards to prospects with the name of their cars.
Add Offers that Can Excite Your Audience
It is not fair to ask your audience for something and not offer them anything. You need to incentivize or encourage them to complete the CTA.
Add exciting offers that make your recipients feel that they have a great deal at their hands. You can use sentences like:
Buy 2 and Get 1 On Our New Range
Get a Flat 20% Discount On Your Next Purchase
Join Our Loyalty Program Today to Get $50 Off Every Purchase
Call Us Up Now and Redeem Credits Worth Upto $100
Highlight your offers in bold so that they are clearly visible to everyone. You can also reprint the offer on the backside of your postcards (towards the left side) to reinstate them.
Use Contrasting Colours
20% of your campaign success is dependent on your mail design. Hence, pay added attention to your postcard design and make it as creative as possible.
You can use samples of marketing postcards as examples, but create something unique. Present something to your audience that they have never seen before.
The first thing that you can do is decide on your design colours. Use bright colours that can instantly grab anyone's attention. Also, you can mix and match colours to create impressive visuals. All the famous brands around the world use colours from their logo to increase brand recognition, so you can consider doing that too.
Include Testimonials
88% of customers trust reviews the same way as personal recommendations.
92% of customers believe unpaid recommendations more than other forms of advertising.
Furthermore, testimonials increase your overall conversion rates by 34%.
These statistics make it evident that you should use real-life examples, recommendations, and testimonials in all your marketing efforts. They help prospects know that other people have been using your products and/or services and are happy with them.
You can print your Google ratings on postcards or include social media comments. Either way, only use reviews from your long-term customers that are happy to contribute to your branding.
Use Relevant Imagery
It is crucial to choose images that represent your message clearly. If you are a life insurance provider, you can use images of a happy family. Similarly, pizza franchises can use food images that are devour-worthy.
Images make a huge psychological impact on your audience. So, make sure that your imagery is on point with your messaging. Also, only use high-resolution images to impress prospects.
Some marketers use large-sized images for adding to their visual effects. Whereas, others use a collage of many small-sized images. But, leave enough white space so that your postcards don't look too cluttered.
Track Performance With QR Codes and PURLs
For measuring campaign performance, use trackable features like QR codes, discount coupons, and pURLs. They can help you track every response and measure response rates. Also, CTAs help you drive responses.
QR codes take up less space and can also be printed on the backside of postcards. Prompt your recipients to scan these codes that take them to your website, where they can avail of the offer.
But, pURLs are also an effective option. You can include the person's name in the link to motivate them to visit it.
Other options include adding a dedicated phone number so that you can track and record calls. You can also add a discount code that recipients can enter while checking out on your website.
It is advisable to only use one CTA for one campaign to avoid confusion and make it easy for you to track campaigns.
The most effective postcard marketing strategy is to use trackable features in conjunction with offers. For example, you can use sentences like:
Scan the QR code below to get an instant $20 discount
Call on our toll-free number before 15th October to claim your offer
Visit the link mentioned below to sign up and get a surprise bonus
Keep Your Copy Short and Simple
Include attractive headlines that can sum up the purpose of your mailing. Often, marketers use their offers as headlines to attract people.
Powerful headlines can tap into the recipient's emotions. You can positively use these emotions to tempt people to read your postcards. Use headlines like:
Save a Child's Life With a Donation of Just $10
Join Our Gym Today and Get a Flat $25 Cashback
Your headlines should be bold and upfront. Don't leave your audience guessing what your postcard is all about.
Make sure that your business brand connects with the audience through creative headlines. Give your prospects something they can relate to and that encourages them to buy from you.
Keep Your Mailing Lists Clean and Updated
40% of your campaign success comes from your choice of mailing list. An outdated and unsegmented mailing list can cost you a lot and also give absolutely no results. But, you can generate positive results if you take the trouble to put together a relevant list with updated addresses.
Use Cases of Postcard Marketing Canada
There are many ways in which you can use postcard marketing to increase sales and improve brand image. Some effective marketing postcard examples are listed below:
Promote New Products and Services
Promoting your brand's products and services while they are newly launched is one of the best ways to create buzz about them. Your potential customers are likely to pay more attention to your new offerings than the old ones. Hence, it is a great opportunity to win over new customers.
Postcard marketing can help enthusiastically talk about your offerings. Be as creative as you can to grab your audience's attention and motivate them to complete the CTA.
Reconnect With Old Customers
Every year, companies lose a lot of customers in churn. Some customers might buy from you after certain intervals, but some switch brands completely.
In such cases, you must try and get in touch with your old customers. Print and mail postcards with "we miss you" messages and a welcome-back discount. Make sure to personalize the postcards to make them feel more special.
Some of your old customers' addresses might have changed. Therefore, you can use PostGrid's address validation API that helps you access the National Change of Address data.
Cross-Sell to Existing Customers
Along with finding new customers, you can also find ways to sell more to your existing ones. For that, you need to formulate some robust cross-selling plans, one of which can be postcard marketing.
It enables you to reach out to customers and talk about the other products and services that they haven't tried yet. Offer something exciting to incentivize them.
Introduce Seasonal Offers
Seasonal offers are for a limited time and create urgency. You can bring on such offers during the holidays, summer, or other times of the year. We all must have heard about brands introducing their spring collection and so on. Such seasonal offers work great and can get you a lot of sales.
But, you should promote these offers the right way. Build a list of relevant audiences and then send them marketing postcards with a compelling CTA. Include the last date for the offer as it pushes people to act fast.
Grow Your Network With Referral Programs
Referral programs are an excellent way to expand your lead list. Send postcards to existing customers with all the details regarding your referral program. As postcards are tangible, they can pass them on to their family and friends as a referral.
Build Emotional Bonds By Sending Holiday Greetings
Send yearly holiday and birthday greetings to your customers to create emotional connections. It helps you stay top of mind, and enables you to retain customers as people appreciate these little gestures.
Announce Upcoming Events
Be it the launch of a new franchise, an upcoming press meet, or your participation in a trade fair, you can announce these events through postcards.
Mention the place, date, and time, and let your audience know that you would be delighted to have them there. Postcard marketing is highly useful to get people to RSVP to your event.
How Much Does Postcard Marketing Campaign Cost?
Your postcard marketing campaign costs depend on a lot of factors like:
Campaign Size
Large-scale campaigns usually cost a lot. But, you can avail of bulk discounts and keep your budget in control.
Mailing Lists
If you use a house list, it would cost you nothing. However, rented mailing lists cost about $0.30 per record. Segmented mailing lists cost even more.
You can opt for Canada Post Neighbourhood Mail to target certain postal codes and zones. It helps you conduct direct mail campaigns without having a mailing list of your own.
Design and Copy
Again, in-house designing and copywriting wouldn't cost you a dollar. But, if you choose to outsource these tasks, it can cost you anywhere between $100 to $2,000.
Printing
Marketing postcard printing also costs a lot if you need to conduct a huge campaign. It is advisable to contact vendors who give bulk discounts to print in large volumes.
Take care that your printer offers variable data printing options to help you personalize your postcards.
Postage
Mailing can be expensive if you choose to send oversized postcards or those with irregular shapes. But, marketers can cut down on postage rates by following the Canada Post postcard specifications.
How Can PostGrid Help You Conduct Successful Postcard Marketing Campaigns?
Our postcard marketing services include:
Designing
Preparing Campaign Performance Reports
PostGrid's print and mail API can help you from start to end. Our pre-built templates help you design your postcards without the help of a designer. You can customize them according to your requirements.
Companies can also integrate our API into their CRM to start mailing from their system. It is easy, quick, and efficient. Also, there is no technical expertise required.
If you don't have mailing lists, we can help you build them from scratch. Select the demographics you are planning to target and let PostGrid do the work for you. We also verify all the mailing lists against the Canada Post database to ensure that your postcards are successfully delivered.
Apart from these things, PostGrid can handle printing and mailing your postcards in any volume. So, it doesn't matter if you need to mail 100 postcards, 1,000, or even more.
You can track them in real-time and also access the campaign insights right from your dashboard. Hence, PostGrid can lift the heavy load off your shoulders and conduct the entire campaign on your behalf.
Conclusion
Postcard marketing in Canada is both affordable and productive. You can increase your ROI while keeping your costs low. Also, you can improve your brand reputation and make yourself known to prospects.
Owing to these reasons, postcard marketing can be an excellent addition to your marketing plans. You can use it as a standalone strategy or combine it with other marketing channels. Either way, it is sure to return positive results.
Moreover, you can streamline your postcard marketing campaigns with PostGrid and save a lot of time and money.
Sign Up Now to Learn More and Get Started!