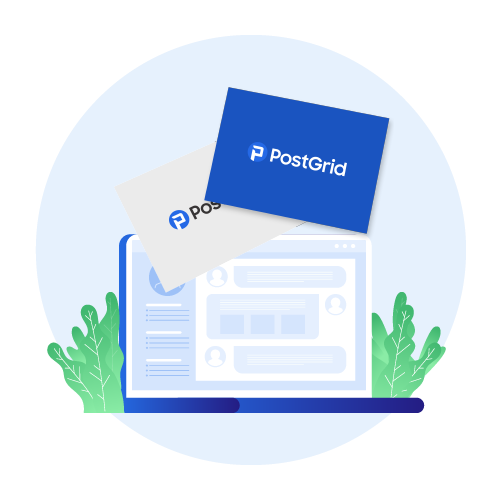 Business Postcard Ideas and Examples
Even though postcards are old-school, they are excellent direct mail items that can help businesses in more ways than one. Business postcards can be highly targeted and have the potential to drive conversions in Canada. You can either target your current customers or reach out to prospects and generate fresh leads. Either way, postcard marketing has proved to be effective.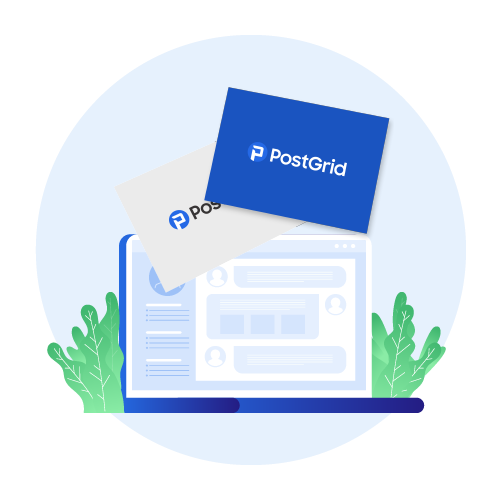 Postcards represent your brand visually; they should look professional yet creative. It is vital to pay attention to the postcard copy and design and use different business postcard ideas.
Marketing postcards often have limited-time offers, giveaways, announcements, event invitations, product introductions, and coupons. They contain a limited amount of words due to less space but are extremely appealing in nature. Moreover, postcards are cost-effective, hence ensuring a better ROI.
Have you ever wondered how to build your small business fast with simple postcards? Please note that postcards work great for both newly started and established businesses, irrespective of whether they are small or large.
In this blog, we will discuss how businesses can leverage postcard marketing to increase responses, re-engage customers, build brand awareness, and more. Additionally, we will also review the various business postcard examples that can help marketers plan and conduct successful postcard marketing campaigns.
Why Does Postcard Marketing Work for Businesses?
Creative business postcard ideas can definitely help businesses represent their products and services in front of their audience in an impactful way. Find below the prime reasons why postcard marketing works exceptionally well for businesses.
Postcards Are Appealing
Postcards do not require envelopes to be mailed. Recipients can flip them over and view your postcard content. This feature makes postcards easily viewable and pushes more and more recipients to read your postcards.
Postcards Offer Personal Touch
In an age where people are bombarded with online banners, social media ads, and emails, postcards do quite the opposite. They create a nostalgic effect and offer a personal touch. Undoubtedly, the emotional value possessed by postcards is far more than any digital marketing channel can have.
Postcards are tangible, and people can share them with others. Companies can refer to postcard marketing ideas for businesses to conduct memorable campaigns and give people something to remember them by.
Postcards Are Long-Lasting
Many people prefer to save postcards for later use. They are small and can be pinned on boards conveniently. Moreover, some people also stick postcards on their refrigerators or simply keep them in a folder. These things mean that postcards have a long shelf life. Unlike Instagram ads that people scroll through within a second and emails that are moved to spam the moment they arrive in somebody's inbox, postcards are valued and saved.
Postcard Marketing Is Cost-Effective
Postcards are the cheapest type of direct mail. They are easy to design and print. Businesses can also conduct large-scale postcard marketing campaigns at affordable rates by mailing. However, to avail of lower rates, you must take care of all the postcard size and weight guidelines.
Postcards Attract More Responses
Postcards are capable of getting a higher response rate — starting from 4.25%. They definitely outperform several other types of direct mail. It is because postcards can communicate with your audience better and present your proposal to the recipients in an impressive way.
Postcards Can Drive Online Traffic
If you want your direct mail recipients to visit your website or follow your social media handles, put your business postcard design ideas to work. You can put links to your social media accounts and websites or include the QR code that directs the readers toward these online channels.
Tips to Optimize Your Postcard Marketing Campaigns in Canada
1. Plan Your Objectives and Identify Your Audience
It is obviously tempting to start straight with a postcard for business examples. But, you need to hold up and plan your objectives first. Set well-defined goals for your campaign like generating fresh leads, motivating old customers to purchase again, influencing sales volumes with different discounts, launching new products, and so on.
After setting goals, identify your target audience. Determine whether you want to use a house list or rent mailing lists from third parties. Also, list down your customer characteristics to identify your audience.
Use verified mailing lists and always keep updating your database. PostGrid's address validation API can help you standardize and validate your mailing lists within minutes.
2. Personalize
Instead of talking in general, talk to your reader. You can do this by personalizing all your postcards using the person's first name and other demographics. Personalization is an important aspect of marketing, and your campaign's success depends on it significantly.
Always make your readers feel understood. You can include several data points in your postcards, such as their location or age, depending on your products and services. For example, you can include a message saying "Dear Mr. Stefan, we are introducing our new restaurant branch on Western Street. Since it is located at a distance of only half a mile from your place, we would like to invite you to our grand opening on 1st July. Looking forward to having you here soon with your wife."
In the above message, the marketer has used three data points to personalize the postcard—the name, location, and marital status. Using such a business marketing postcards idea, you can, too, use different geo-demographic factors and please your prospects. PURLs are also a great form of personalization.
3. Craft Strong Headlines and Highlight Your Benefits
Headlines are the first thing that recipients read. Hence, they should be compelling, attention-grabbing, and creative. Headlines should create a desire that lures people towards reading further. Find some examples of a business postcard headline below:
Eliminate Body Ache Quickly
Do You Find the Concept of Recurring Deposits Too Complicated to Understand?
Get Tasty Food Delivered at Your Doorstep
These headlines either create excitement, solve problems, simplify situations, or offer something that you need. Consider your target audience and their needs to craft appealing headlines.
Your headline should be compelling enough for the readers to go through the rest of your copy. List your benefits in bullet points. Talk about your USP and what you have to offer. Avoid using big sentences in postcards as the space is too compact.
4. Use Attractive Colors and Imagery
To differentiate the CTA and offers from the rest of the copy, marketers should use contrasting colours. However, take care to balance all the colours and not overwhelm your readers. Consider postcard examples for repeat business. In this case, your customers already know about your brand. Hence, your motive will be to make an incredible offer that can make them buy from you once again. Use a different colour for your entire message and a different one for your offer. This way, you set your offer apart from the message to catch more attention.
Similarly, use relevant imagery that visually explains your entire message, for example, using images of a beautifully painted house to promote your painting services. A postcard with attractive colours and relevant imagery commands attention and pushes up your open and read rates.
5. Add a Powerful CTA
Your postcards should always feature a compelling CTA. You can restate offers, deliver deadlines, give a gist of your message, and tell your audience exactly what they need to do through a CTA.
You can ask them to visit your offline store, sign up on your website, like your social media pages, call you on the given number, or drop an email. Find below some CTA examples:
Book your slots before 17th July 2021
Call the toll-free number written below to schedule an appointment
Download our app today
6. Include Exciting Offers
The main aim of postcard marketing is to show your proposal to your target audience. You explain a bit about your brand and state your benefits. After that, you make an offer to them in return for a favour (CTA). Hence, the whole mechanism is incomplete without including offers.
Put yourself in your prospects' shoes and think about what can drive you to complete the CTA. It should be something exciting and useful. Back up your offer with a deadline to encourage quick responses. Please note that the CTA and the offer can be put together in the same line. For example: Carry this postcard to your nearest branch to get a 40% discount.
7. Pay Attention to Your Paper Type
If you check out business postcard example images, you are likely to concentrate only on its design. But, in reality, the paper stock matters equally. It is said that the bigger, the better. Therefore, oversized postcards are in demand. Large postcards can easily stand out from the crowd. They are easily noticed from among a pile of mail items in somebody's mailbox. Plus, concentrate on your paperweight and coating.
A lot of marketers choose to use portrait orientation for their postcards rather than the traditional horizontal style. Details like such can make a huge impact on your campaign performance.
8. Add Testimonials
Adding social proof in the form of testimonials and real-like examples can help recipients relate to your postcard content. Even a small business marketing postcards idea featuring real-life stories can work wonders. Sometimes, you can skip through the glamorous images and quotes and simply stick to what is really important—your existing customers.
9. Always Follow Up
Postcard marketing campaigns aren't supposed to be done and forgotten. You can back your postcard marketing effort with an email or social media marketing campaign. This way, you can remind your direct mail recipients to respond to your offer, in case they missed out on it or are not convinced enough.
No matter how many examples of great business postcards you make use of, follow-up is a must. Nothing can happen without consistency and repetition. Hence, make sure to follow up with all your direct mail recipients through different channels, understand their concerns, and offer them the best deal.
10. Deploy Trackability
There are several ways to track campaign performance. Take care to use a proper response mechanism so that you can record all responses. Some popular ways to track direct mail are:
QR codes: They are easy to scan and can direct recipients toward your website. Moreover, they don't take up much space, so you can blend them into your design easily. Some marketers also add a QR code on the backside of postcards. There are several business postcards' back examples having QR codes printed on the backside.
Unique contact number: Use a unique phone number for the campaign to track and record every call.
PURLs: PURLs do the same thing as QR codes. But, your recipients are supposed to type in these links manually.
Specific discount codes: Whenever someone uses a discount code that was unique to your campaign, you can count that as a response. Furthermore, discount codes can drive responses and conversions at the same time.
In What Ways Can Companies Use Postcard Marketing?
Generally, marketers can either conduct single, standalone campaigns or a whole set of recurring campaigns. If you are trying out postcard marketing for the first time, it is better to conduct one-off campaigns. Otherwise, planning and conducting recurring campaigns should not be difficult at all.
There are many ways to use postcards as part of your marketing strategies. Find below some productive and fun business postcard mailer ideas for your reference:
Promote Special or Limited-Time Offers
Businesses announce several special offers from time to time. The success of these offers depends on their publicity and ability to attract people. Using postcards, marketers can inform their target audience about their offers directly.
Make sure to design postcards that can highlight your offers and tell people what they are supposed to do clearly. If you observe the best business postcard design ideas, you will notice that all these designs have their offers and CTA printed in vivid colours and bold highlighting. By creating a sense of urgency, marketers can convince prospects to take action before the deadline.
Re-Establish Connections
Every company has a list of customers who haven't bought from them in a while. Well, it is time to win back your customers by persuading them once again that your products and services are of great value. An excellent way to re-engage old customers is to send them "we miss you" postcards. You can also send thank-you postcards to appreciate the time when they brought you business. Use business thank you postcard ideas and design postcards that can re-establish connections.
Make your postcards highly targeted and personalized. A smart technique is to offer personalized discounts and cashback on their next purchase. Such offers are tempting and can help you get your customers back.
Introduce New Products or Service Add-Ons
When you introduce new products and services, it is not mandatory to only advertise them to your existing customers. You can create postcard marketing campaigns for the same and target both your customers and prospects. Make a list of your customer "lookalikes" that share the same buyer persona.
With postcard examples for repeat business, marketers can convince existing customers to purchase these new products or resubscribe to their services for additional add-ons.
For example, you are a steel manufacturing company, and several customers have ordered steel products from you. In this case, you can push them to continue giving you back-to-back orders by giving them several discounts and long-term credit periods. Another example could be a kitchen appliances store introducing a new range of microwave ovens and promoting the same to prospects. Such stores can use business open house postcard ideas to invite people to visit them.
Conduct Recurring Campaigns
If you are planning to conduct seasonal and recurring campaigns, postcard marketing is your best bet. They are interactive, and your prospects are likely to appreciate receiving a series of postcards over a season.
You can either conduct four different campaigns in just two months or spread them out throughout the year. If you take examples of bakery business postcards, you will find a pattern of marketing campaigns covering the entire holiday season from Thanksgiving right up to New Year.
Since postcards are the best tangible items to be top-of-mind of your prospects, you should definitely use postcard marketing as part of your recurring or seasonal marketing activities. PostGrid's postcard API can help you conduct such campaigns efficiently and swiftly.
Introduce Referral Programs
We all have seen online referral programs wherein customers are asked to refer a friend and earn credits or something similar. In this case, customers are supposed to copy and send a code to their friends, using which they can sign-up or, perhaps, purchase something.
The good thing about using postcards for promoting your referral programs is that they are shareable, and customers can hand them over to their friends or relatives as a way of referring. Hence, your postcards will be passed on from one person to another, creating a bigger market for your business and increasing brand visibility drastically.
Send Holiday and Birthday Greetings
Before establishing business relationships with prospective customers, companies need to form an emotional bond and make them feel special. They need to go out of their way and do something that people appreciate. Even in the case of your existing customers, it is important to make them feel appreciated from time to time. Postcard marketing can be your easiest and most effective solution to achieve these things.
Use holiday postcard examples for businesses and distinguish your brand from others. People are always delighted to receive holiday season postcards, and yours are likely to add to their delight and make them think about your brand. Similarly, sending postcards to someone on their birthday makes them feel flattered, and they are likely to respond.
Top Business Postcard Examples for Various Industries
Different companies from different industries have different stands on marketing. However, postcard marketing can work for them all. Below are some examples of postcards for businesses from various industries for you to understand how you can use the same channel in several creative ways.
Real Estate Postcards
Since real estate is all about properties, real estate postcards are likely to have images of the locations in question. You can use big images with bright colours along with the location details and an undeniable offer. Announce new sales or invite people to an open house effectively with postcards.
Postcards for Hospitals and Clinics
These postcards usually have more content than images. They are meant to communicate all the services offered and their benefits. Have a look at the business healthcare postcard design ideas to understand how their format works. PostGrid has several in-built postcard templates to help you.
Newly-Opened Restaurant Postcards
It is the food industry where images and colours matter the most. People often think about mouth-watering dishes and amazing drinks when talking about restaurants. Hence, restaurant postcards should bring their imaginations to life and print amazing content on their postcards. Follow examples of business postcards for restaurants to learn more about mixing food images with compelling offers.
Financial Institution Postcards
Out of all the postcard examples for business, the ones used by financial institutions always supersede the others. The financial industry has been using direct mail for a long time now, and their effort always pays off.
A postcard explaining a complicated financial situation in a simple manner or offering lower interest rates works great with their prospects and customers.
Non-Profit Organization Postcards
You can invite people to come to a charity event or donate online. Non-profit organizations can get a huge response by adding donor reviews and testimonials of the people who received the help. All postcard business examples guide you to use the space in an organized and neat manner. Therefore, you can cut back on your marketing message and emphasize these testimonials to attract your readers' attention.
Other industries that can benefit from business postcard ideas include:
Car dealerships
Law firms
Educational institutions
Health and wellness businesses
Travel and tourism firms
Fashion retail shops and more
Wrapping Up
Business postcard ideas can help marketers incorporate postcard marketing into their marketing campaigns and expect better results. Postcards are a piece of art. Moreover, they resonate well with people.
Companies of all industries can use business postcard examples to achieve several objectives. From increasing brand awareness to announcing events, they can promote nearly anything.
PostGrid's print and mail solutions are meant to assist you in your postcard marketing activities. You can use its print and mail API to plan, conduct, and track campaigns effortlessly.
Automate Your Direct Mail Activities With PostGrid Now!