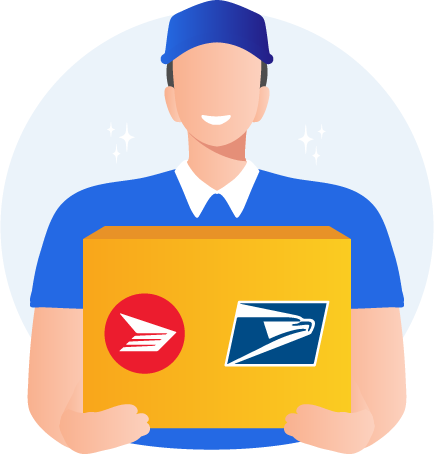 Who Delivers USPS in Canada and What Are the Best Options for Effective Mailing?
Do you have a friend or cousin who wants to send you a package from America? Or you want to know who delivers USPS in Canada because you need to order some things from a supplier!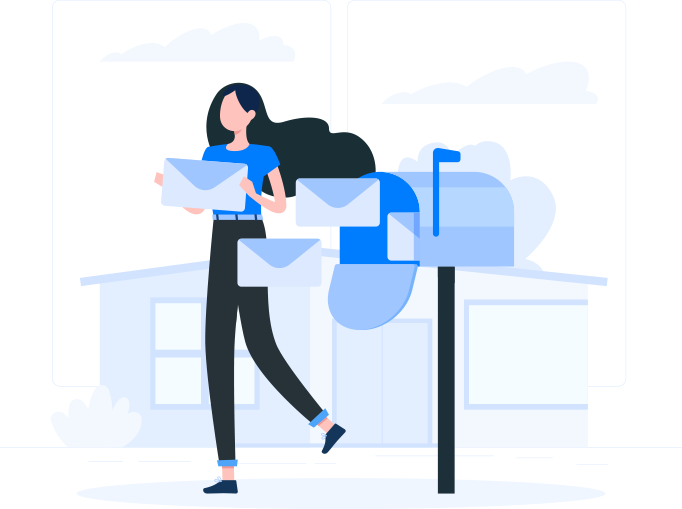 It is not new for Canadians and Americans to send items back and forth using postal services. But, you may find it confusing how USPS delivers in Canada! Does it have Post Offices here too?
This blog answers your questions about USPS delivery Canada and lets you select from the best mailing services…
Let us get started!
Does USPS Deliver in Canada?
The American postal services offer excellent options for people to send mail to Canada. They make importing items from the US a breeze for Canadian customers. Also, these intercountry mailing solutions help international businesses receive transactional mail from their branches in the US.
But who delivers USPS in Canada?
USPS transports your mail to the border and hands them over to customs. Then, a customs officer checks these items and allows the shipment to enter Canada. From here on, Canada Post is in charge of delivering every mailpiece to the intended recipients like it delivers national mail.
How Does USPS Deliver in Canada?
USPS has several international mailing options with varying features and postage rates. They include:
First-Class Mail International (FCMI)
It is one of the most affordable options for sending postcards, letters, large envelopes, and other printed documents. USPS provides this shipping service internationally to 180 countries, including Canada.
You can mail 1 oz envelopes and postcards using only one Global Forever stamp, which costs $1.40. The good news is that these stamps never expire, and you can stock them for use when the rates increase in the future.
FMCI helps USPS in Canada by allowing speedy mailing at low rates. However, please note that you can only mail flats weighing up to 15.994 oz, and the postage depends on the destination and the weight.
Many clients ask us- does USPS deliver to mailbox or doors in Canada. Luckily, recipients mostly get doorstep deliveries and need not go anywhere. Canada Post helps the USPS fulfil orders in the specified time.
Also, FMCI helps senders avail of the Registered Mail option, so they can transport their items more securely and get tracking details!
First-Class Package International Service (FCPIS)
Now that you know the answer to, 'is USPS in Canada,' let us discuss affordable shipping services for packages. FCPIS enables you to mail packages weighing under 4 lbs or 64 oz at affordable pricing.
There might be restrictions in a few destination countries, but mailing parcels to Canada from the US is relatively easy. Prices start at only $14.85, and you can avail yourself of electronic delivery confirmation by paying an extra fee.
You can use this service for USPS delivery Canada when your items exceed the eligibility for First-Class Mail International. Also, you may avail of add-ons, like Return Receipt, Certificate of Mailing, and Registered Mailing, helping you get shipping evidence.
Priority Mail International
This service for USPS in Canada lets you mail packages up to 70 lbs at weight-based pricing. The maximum weight limit for flat-rate envelopes is 4 lbs, and flat-rate boxes are 20 lbs.
Priority Mail International offers numerous features, like USPS tracking and insurance. You get $100 insurance for non-negotiable documents and $200 for merchandise. The rates for sending Priority Mail International items start at $29.60 for the flat-rate option and $40.45 for weight-based USPS in Canada shipping.
Additionally, you may qualify for free package pick up from your home or office address. Thus, all you need to do is inquire- where does USPS deliver in Canada and how? If your packages are too heavyweight to meet the FCPIS guidelines, USPS suggests you send them via Priority Mail. Then, you can buy the service online and request a pickup or drop the items at a nearby Post Office.
Priority Mail Express International
This USPS delivery Canada option is apt for sending time-sensitive and crucial mailpieces. Priority Mail International helps you get your envelopes and packages to their destinations within a week. There is also a money-back guarantee for date-specific deliveries, pushing USPS in Canada to make quicker, more efficient deliveries.
Like Priority Mail International, you can get weight-based pricing for packages weighing up to 70 lbs. It is the most reliable and time-efficient service to ship such heavyweight items.
Also, you can use flat-rate envelopes weighing up to 4 lbs for sending crucial letters, tax documents, forms, etc.
The prices of using Priority Mail Express International for USPS in Canada start at $47.95. Almost all the features are the same as Priority Mail International except for a full refund on non-delivery to select destinations and speedy shipping.
Global Express Guaranteed (GXG)
Whenever you ask questions, like who delivers USPS in Canada, GXG is the first option the Post Office suggests. It is the most popular option to send something to Canada or other foreign countries! However, it completes international conveyance and delivery via FedEx Express instead of Canada Post.
Rates start at a whopping $67.80, but you can deliver your direct mail items in only one to three business days. Most USPS delivery Canada shipments arrive the next day, making GXG an impeccable option.
The best part is you can ship mail items weighing up to 70 lbs. Also, you get $100 insurance coverage for all shipments. You can buy additional coverage for up to $2,499 for valuable mailpieces.
Other features of GXG for USPS in Canada include:
Date-certain arrival with a money-back guarantee
Doorstep package pickup
USPS tracking for all destinations
Prices vary with mailing distance, shape, size, and weight
Airmail M-Bags
USPS Airmail M-Bags allows you to ship large volumes of printed materials, like catalogues, magazines, books, etc., internationally to a single recipient. For example, imagine you live in Canada for studies and need to get some old books from your house in New York. Airmail M-Bags help you send them through USPS delivery Canada at affordable prices!
Other examples of the items you can mail include sheet music, journals, newspapers, commercial advertising, promotional mailpieces, directories, etc. There is no minimum weight limit for using this option for USPS in Canada, but you can't mail more than 66 lbs. The rates start at $52.80 if you purchase Airmail M-Bags at the Post Office.
How Long Does USPS Delivery in Canada Take?
All the options we discussed above have different delivery windows. Of course, GXG is the fastest as most shipments reach Canada in only one day. It is your best bet if you want USPS to deliver something overnight, but the rates might restrict you.
So, you can mail a few days in advance and take advantage of the USPS in Canada Priority Mail options. Priority Mail International helps you get your mailpieces to their respective destinations in only six to ten working days.
For better speed, you can always switch to Priority Mail Express International, offering a delivery estimate of three to five business days. You may need to wait two or three days extra for this USPS delivery in Canada, but its rates are more than $20 cheaper than GXG.
Some of our account managers have also encountered questions, like does USPS deliver to PO boxes in Canada, and does it take more time? Fortunately, shipping to Canadian PO boxes is the same as regular addresses, and there are no differences in the delivery timings.
Let us talk about FCMI and FCPIS; USPS does not mention the accurate delivery windows for these options. The mailing speed differs for every destination country, and you cannot claim a refund for slow shipping.
Hence, you may want to skip these options for sending time-bound mail after learning the answer to 'is USPS in Canada.' The same goes for the Airmail M-Bags service, which does not provide specific time frames for your mail arrivals.
Also, note that the First-Class Mail options and Airmail M-Bags don't offer insurance. Thus, you may hesitate to mail valuable things, like personal correspondence, confidential documents, etc.
If you want to mail your items safely and quickly, try using PostGrid's direct mail services! They allow you to draft, print, and ship your mailpieces to any part of the world without you doing anything…
How to Track USPS in Canada?
Always ask the Post Office about tracking once you inquire- does USPS deliver in Canada? It helps you know where your mailpieces are, allowing you to take the following steps accordingly. For example, you can share the tracking details with your customers and let them know the item is on its way to them.
Only First-Class Mail services don't offer tracking updates, but you still get an electronic confirmation with FCPIS. All the remaining options provide end-to-end USPS tracking to inform you of your item's delivery status!
However, only GXG has tracking features for all destination countries. The remaining options only offer USPS tracking for select locations, and Canada is one of them.
PostGrid's direct mail API also has real-time tracking capabilities to help you monitor your USPS delivery in Canada. You can stay informed on every stage of the mailing process, from printing to delivery.
How Can PostGrid's Direct Mail Solutions Help You Send Mailpieces to Canada Effectively?
Our automated mailing solutions for USPS in Canada help send anything you want to 245+ countries. Furthermore, our all-inclusive pricing plans enable you to ship affordably and improve your ROI!
We serve many industries, like healthcare, real estate, insurance, financial services, retail & eCommerce. They have different use cases, but there is something similar they all need: online, integrated marketing campaigns!
PostGrid's print and mail services for USPS delivery Canada help these sectors send marketing, compliance, and transactional mail. So, they don't need to restrict themselves and can send all types of mailing items under one roof!
A client in the healthcare sector needed to send 6,000 items to Canada urgently and asked PostGrid if we could handle bulk mailing. And our answer was a big yes! With 2-business days to dedicated SLAs, our clients can select when they want to mail their shipments and where. Our API helps them bring their objectives to reality by doing everything on their behalf and eliminating manual effort!
To Summarize
The answer to inquiries, like who delivers USPS in Canada, is no longer a mystery! USPS and Canada Post have a mutual agreement to ship items on behalf of one another in their respective countries. This contract enables you to mail to and fro from the US without problems!
If you don't have the time to prepare and send your mailpieces or want to save money, use PostGrid's direct mail services! Talk to sales now to get more information on our solutions to ensure smooth USPS delivery in Canada!