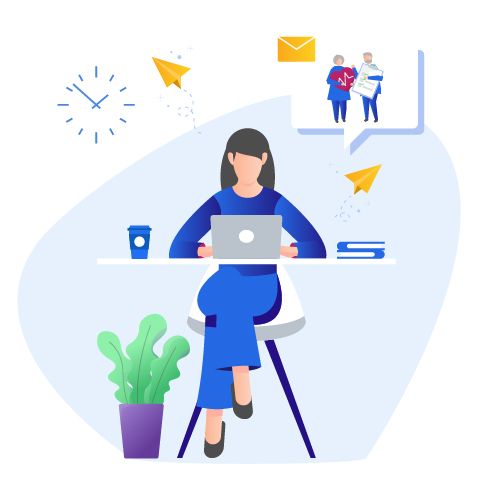 Direct Mail Marketing for Insurance Providers
89%! Yes, that's what the DMA statistical fact book of 2018 reported of finance and insurance services providers investing in direct mail marketing as an important part of their offline marketing and communication.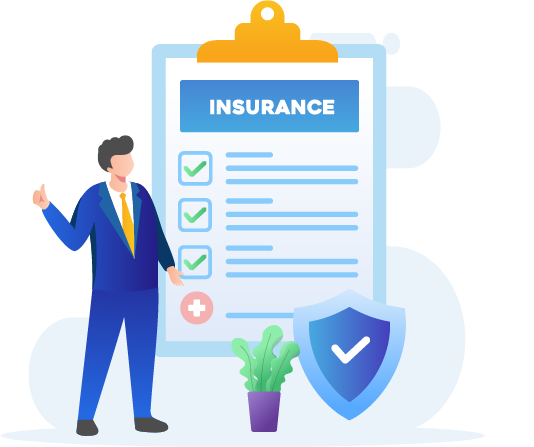 But insurance companies have to face several hurdles when marketing their products through direct mail marketing, considering how difficult it has become to hold the attention of the target audience even with digital ads.
What challenges insurance providers face when marketing their products?
Being an insurance service provider can be a challenging task. Regardless of the policies, you are trying to market, whether life or vehicle, it can be extremely daunting trying to convince the target audience to listen to and invest in them. 
Different insurance policies require the provider and marketers to focus on a different aspects that can add value to the consumer's life. Take, for instance, if you provide health insurance, you need to keep in mind that it is a seasonal offering that will see a rise and fall in the purchase. This leaves marketers with a limited time window to launch such an effective marketing campaign that attracts, engages, converts and retains the consumers.
Let's take another example– say If you provide a life insurance policy, your marketing campaign will focus on the property and the casualty-related factors. 
While those mentioned above are tangible insurance products, being able to convince the customers how you are assuring them that their intangibles requirements like the peace of mind, and a sense of financial security are met by selling the aforementioned can be quite tricky for the marketers to convey. 
Marketers should be able to plan, design and create a direct mail marketing strategy that is customized to the targeted audience's requirement and is highly data-driven to generate maximum return on investment and ensure enhanced efficiency. 
Unlike most of the industries where the message the respective business wishes to convey directly reaches the businesses in the case of B2B customers, in the case of B2C, it is different and difficult for the insurance service providers.
Insurance companies first have to send their marketing messages to the financial advisors who further send them to the masses. This means designing and creating a campaign that not only appeals to your financial advisor but is also quick to grab the attention of and engage the audience. 
In this blog ahead we are going to discuss some effective direct mail marketing strategies that you can implement to acquire more qualified leads and expand your consumer base. 
Direct mail is one of the best marketing tools that, when designed and launched strategically, could drive more customers to what you are offering and boost the return on investment. It is a cost-effective method that caters to a large audience in the quickest and most effective manner. A well-designed direct mail whether it is a poster, brochure, flyer or a letter, has the potential to enhance your brand awareness and generate quality leads. 
But how does one use direct mail marketing to give your insurance company a competitive edge?
Personalize the Campaign
Personalization is the way to win over your customer by touching their emotional chords. The personalized shopping experience will make your customer feel valued and appreciated. This will further reflect on your enhanced customer engagement and retention. Consumers are always on the lookout for a product that specifically resolves their issues. A generic insurance direct mail falls flat if it does not address and promise to resolve the issues your target audience is facing.
A well-designed personalized direct mail will improve the quality and quantity of sales calls, lead nurturing and boost the conversion rate significantly. The higher the degree of personalization, the easier it would be for the customer to make a well-informed decision.
Focus on Direct Mail Timing
Just like there is always the best time to post a blog or a social copy for online marketing, keeping direct mail timing into consideration can also help your business gain a better return on investment. We say the safest days that will ensure that your direct mail gets opened and read would be mid-week. Why?
Let's think of it practically, homeowners keep aside weekends to either relax or tend to another important thing in their personal life, which leaves you with Monday to Friday.
Mondays are mostly burdened with work and replying to every email, which means, Tuesday-Friday is the best time for you to launch your direct mail campaign for the possibility of better ROI.
Conduct Periodic Analysis of Your Direct Mail
Regular analysis of how your campaigns are performing is necessary to check which campaign is delivering desirable results, which one is not and what can be done to bring improvement. Analysis tools will help you streamline and manage direct mail campaigns.
Track the Results of Campaigns
As important it is to send out the right direct mail to the right address at the right time, so is the periodic tracking of each campaign. This will help you identify which campaigns are underperforming and what can be done to improve them. You can dedicate phone lines for each campaign to track their results and accordingly strategize for the future.
Periodically Cleanse Your Data
Data cleaning is of utmost importance for a successful direct mail campaign. Over time the accuracy of the data starts to reduce. Furthermore, the data you have might be riddled with spelling mistakes, and formatting issues or could be incomplete, irrelevant and unaligned with the current campaign's objective. This is why it is important to cleanse the data on a regular basis.
Aside from ensuring that the data is correct and consistent, data cleaning eliminates any possibility of duplicity which enables better targeting. This further prevents you from contacting invalid prospects or customers, thereby saving your time and enhancing productivity.
Data cleaning will also minimize the wastage of money on uninterested prospects. It also strengthens the data analysis which helps in figuring out response rate, lifetime value etc. 
Place an Impressive Call to Action
We don't have to go into the depth of how important the call to action is, but just placing it anywhere without putting much effort and expecting the target audience to notice it and approach you would be a blunder.
An eye-catchy, well-designed and placed CTA will attract, engage and strengthen the possibility of conversion from a visitor to a consumer. Make sure that your CTA is attractive and explicitly clear about what the target audience's next step should be to reach out to you. 
Use the Right Format
Direct mailers can be sent in the form of a postcard, letters brochures, flyers etc. It is important for you as an insurance company marketer to understand the difference in what each will serve.
The best bet for insurance companies that want to inform their target audience about all that the insurance be it vehicle, personal will cover would be a brochure or flyers. They give you ample space to write the highlights of your product and add images to make it more appealing and easy to understand. It has been noticed.
Insurance companies these days are opting for a complete package that contains a postcard, a brochure and a card for the consumers to respond back with.
Keep Fall-off Point into Consideration
Fall off point is the stage of the process from where your audience starts losing interest in your product or service. Maybe it requires several steps for your consumer to reach out to you or follow up with you, which makes them abandon the purchase they were going to make.
Make the process of filling out direct mail marketing forms easier for your target audience. The fewer the hurdles in the customers' path, the less time it will take for them to connect with you, better would be the engagement.
Automate Direct Mail Marketing
While we understand that direct mail marketing can benefit insurance companies in various ways, it is important to understand that traditional direct mail processing would lead to extensive wastage of time, money and employee potential. This is why we would advise you to automate your direct mail marketing with PostGrid's automated direct mail and let all the repetitive mundane tasks be performed in an automated fashion with few clicks. This will not only save significant time, money and staff energy but also increase productivity, and get work done in a quicker and more accurate way.
A direct mail automation tool will allow your insurance company to invest the resources and time in tasks that matter to boost productivity and enhance efficiency.
PostGrid automated tool offers a diverse range of Direct Mail Solutions for the Insurance Industry
Create Personalized Direct Mail
At PostGrid you will have the freedom to create and customize your mail, right from scratch depending on how you wish to convey your message to the target audience. You can also select from our wide range of templates which we periodically update, and customize them with our built-in editor to suit your needs.
All you need to do is a few clicks to create and print premium quality insurance documents and inserts in the shortest period. Throughout the process, you will be in control of how the document is being processed, printed and mailed. 
User-friendly Interface
PostGrid will provide your technical and non-technical workforce with an equally easy-to-use interface with which they can navigate effortlessly and quickly print and mail insurance documents.
Diverse Policy Communication Document
We provide customized printing and mailing solutions to automate and track the designing, creation, printing and mailing of your insurance documents such as insurance bills and statements, policy cancellation notice, explanation of benefits, proof of mailing, a notice of reinstatement, renewal declaration, insurance of notice for collateral production, lender-placed insurance letters, monthly policy billing statements and more.
Compliance
Insurance policy documents hold sensitive data that is gone into the wrong hands and can have serious repercussions. Data safety and security is our prime concern and we are stringent about our printing and mailing operation, which are carried out to ensure compliance. This is why we ensure that every mail, right from being printed to getting processed for mail, is done keeping the HIPAA and PIPEDA standards and norms into consideration.
We will further ensure that our process also follows rules and regulations laid down by your insurance company for maximum safety and security. Our aim is to make sure that every piece of mail that is being sent gets delivered in a safe, secure form with its data integrity intact.
No Minimum Requirement
With PostGrid, you have the freedom of leveraging a scalable service. We have a no minimum requirement policy. This means you can print and mail a single letter, flyer or brochure or hundreds of thousands of them.
We guarantee supreme quality printing, safe and secure mailing, and delivery at the right time, no matter the quantity. You can trust PostGrid with any number of direct mail campaigns that will be launched without any compromise on the quality.
Control Lead Management
Everything lead-related will be under your control and your decision which will take the campaign. The campaign will be created on the type of lead you want to generate- lead magnet request, information requests, seminar or appointment. Every lead has a different conversion and response rate, which we will guide you about so that you can make a well-informed decision.
Furthermore, your leads will go directly to you, with each campaign directed to your brand's business phone line so that you can take it from there. 
Build Mailing List
With our API interface and CRM integration, we can fetch mailing addresses from your existing database and help build your mailing list, which otherwise you would have to do by yourself, wasting your potential, and time. You can segregate the list depending upon who are the prospects, clients and existing customers. With a mailing list at your disposal, we ensure mailing accuracy without having to waste so much time on it. With us, you can rest assured that every mail will reach the right destination at the right time.
Track the Status in Real-time
With us, you will be able to track the status of your package in real-time from your single sign-in dashboard. This will help you know the exact location of your package right from your desk. If you find that the address you have entered is wrong, then you can validate and standardize the address according to the local postal address to make sure your policy and other documents safely reach their right destination at the right time. 
Periodic Reporting
We will provide you with regular analytics reports of how your individual campaigns are performing. The insights will tell you which strategy has worked in your favour and which one fell flat. This data will empower you to make a well-informed decision when you are planning marketing strategies for the future so that you are able to reach out to and engage a wider and more qualified customer base.
Strengthen your relationship with the existing customer base and enrich your consumer's experience by automating the entire process with one click, ensuring the right message is sent to the right address at the right time.
Streamline and simplify direct mail marketing with PostGrid's automation solution for your insurance company.