Boost Response Rate with Impactful Direct Mail Solution
PostGrid's Direct mail solution makes use of technology and a methodical approach to ensure that your direct mail reaches the right audience at the right time, without any compromise on the quality, security, and integrity of the data.
From postcards, letters, brochures to non-profit direct mail service, PostGrid's comprehensive solution will help your brand build trust and expand with an exponentially growing response rate.
Despite being an old method, direct mail is very much alive, prevalent, and thriving, and every business – no matter how big or small– needs it.
All-in-One Direct Mail Solution
Create, Design, Personalize, Send, Automate & Track your direct mail campaigns with PostGrid API
REQUEST A DEMO
Why do you need a Direct Mail Solution that is Automated?
Direct mail is a form of marketing where businesses send physical mail pieces to describe and market their products and solutions to other companies and customer's homes. It's done through USPS, Canada Postal Service, or any other courier service. But it's still one of the most yielding marketing solutions. Direct mail service will help your business:
Build brand awareness
It's one of the most tangible forms of advertising which remains in front of the eye and can be read whenever one wants to. With direct mail solution, you can reach your target audience through multiple channels consistently and increase your brand awareness and visibility.
Reach out to your target audience:
Unlike the other latest marketing channels, which people of some generations are uncomfortable to use, direct mail is an accessible solution. From the greatest generation and the millennials to the Gen-Z, everyone understands it very much. That's why it's one of the most potent tools to reach out to your target audience, whether it's a 15-year-old school-going girl or a retired senior citizen. Direct mail marketing appeals to all the age groups. And when a direct mail solution effectively executes a campaign they can garner a higher return on investment.
Better Return On Investment:
Direct mail collaterals – being a tangible form of marketing – have comparatively delivered higher return on investment with cost-effective investments. One of the best ways to ensure better ROI on direct mail solutions is personalization. It's also a source of one of the most reliable ROI and has a higher percentage of in-store sales than its contemporaries.
Boost Creativity
With direct mail companies, you'll have the freedom to create and customize your marketing and transactional collaterals according to your business needs and hit the bull's eye with the target audience. With so many templates and options available, you can add your personalized creative elements to resonate with your audience directly.
Memorable
With its knowledge, experience, and expertise, direct mail solution will help you make your tangible direct mail a memorable piece that no consumers can overlook when going through their mailbox. They will help you create and customize such outstanding mail that the fear of missing out will make your target audience open the mail and read further.
Less Common
How will investing in a direct mail solution be helpful, if it's not as prevalent as it should be? We understand the contention. With the inception of digital marketing and its growth, direct mail solution is becoming a less common form. Businesses can leverage this by sending out creative direct mail that will allow them to stand out the crowd, thereby enhancing visibility and engagement. It'll further help your business gain an authoritative status in your respective industry.
Builds Trust
Unlike your other marketing efforts, which are annoyingly salesy, direct mail has found its way to gain the target audience's trust by less intruding and personal approach.
Not regarded as a Spam
Direct mail is presented and created in a more formal yet interactive manner than its contemporaries. With a credible direct mail solution, you can create premium quality direct mail at the most competitive market price and get promising results. Their quality will compel the target audience to pay attention to the information printed on it. This relevance to their requirement might quickly turn them into leads, and the sales funnel for engagement and conversion.
More Interactive
With the proper use of images, QR codes, and texts, direct mail can be made one of the most profitable and interactive marketing tools to attract, engage, and retain the clients and customers, with its real nature.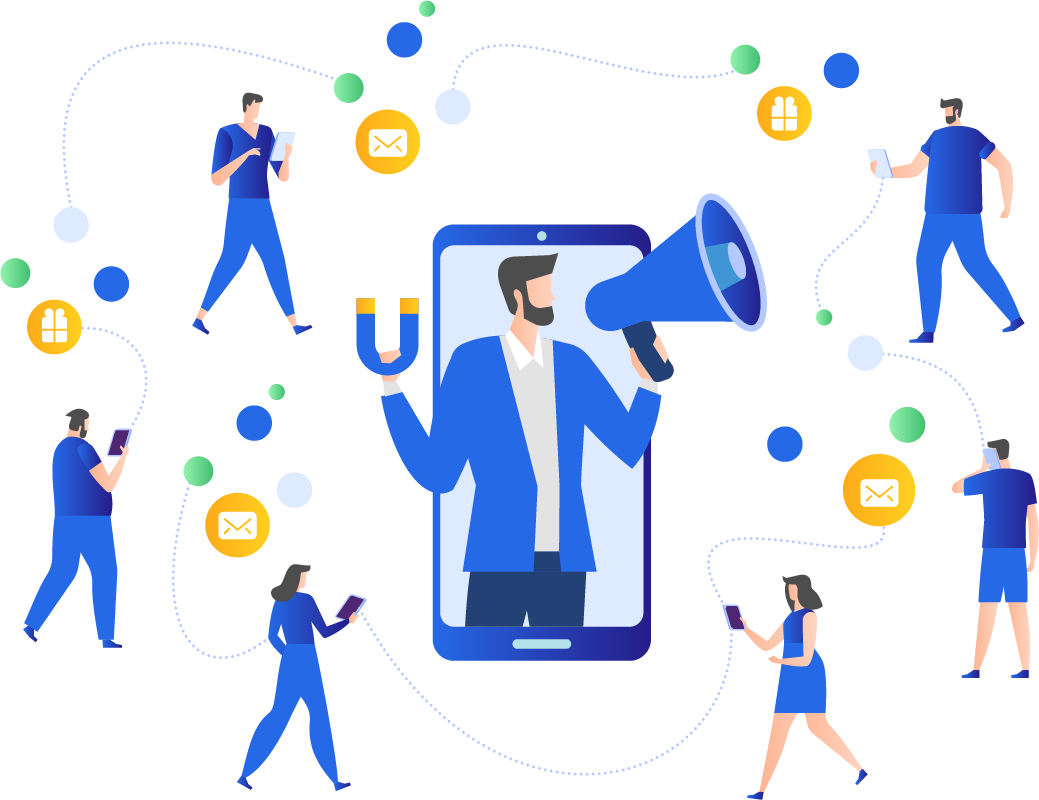 What makes PostGrid direct mail solution different from the traditional way?
Traditional direct mail is a tedious process, which involves the movement of many parties that results in delay and subpar direct mail service. It further reflects on the declining engagement and shrinking consumer base.
The demanding process requires different teams to coordinate periodically for designs, printing, and other techniques, seeking approval and making changes per the project manager's instructions. The delivery time of traditional direct printing and mailing service is close to 30-90 days, which results in reduced productivity, inefficiency, wastage of crucial resources, and stunted business growth and development.
PostGrid's direct mail solutions bring the right infusion of the traditional approach and latest automation technology to help your business gain a competitive edge with its premium quality direct mail solutions that guarantee a higher ROI.
PostGrid provides automated direct mailing solution for your business's marketing and transaction requirements, helping you build and reinforce your offline communication. Your business can create, print, and send direct mail at scale from postcards and letters to statements and invoices with direct mail API and CRM integration.
PostGrid automated direct printing and mailing solution will get your work done in a click without compromising the data's quality, safety, and security. With PostGrid's API documentation, you empower your business to create, automate, and send direct mails – individually or in bulk.
We also offer your business to incorporate our all-in-one solution to create and launch direct mail campaigns from your dashboard. You can also customize your mail with our in-built editors according to the message you want to convey to your target audience.
The API allows for easy CRM integration with the existing database that fetches your contacts and adds the mailing address directly to your campaigns, thereby eliminating the probability of sending it to the wrong prospect, client, or customer.
Besides that, our platform provides you with the address validation and standardization to ensure 99.9% deliverability of the right mail to the right individual.
To help your business identify and work on the loopholes, we'll also provide you with periodic detailed analytics and downloadable reports to boost business productivity and workforce efficiency.
All-in-One Direct Mail Solution
Create, Design, Personalize, Send, Automate & Track your direct mail campaigns with PostGrid API
REQUEST A DEMO
How is PostGrid's direct mail solution different from the traditional direct mail service?
The traditional direct mailing process looks something like this:
Firstly, the team decides the theme, and the project manager approves it, then it further goes to the project owner for approval, and this task alone takes close to 15-20 days.

The project manager then decides the budget according to the designers, writers, and the other resources involvement, which again goes to the project owner for approval.

Deciding and designing the template, choosing the content that aligns with the client, customers, or prospects' preferences, and sending your business message is again a tiresome and time-consuming task. And it'll take 5-7 days to come to a unanimous conclusion.

Next on the agenda is preparing the drafts that take around 5-7 days, and then it goes to the project manager for a review, who discusses it with the project owner for the feedback.

Based on the feedback, the team revises the design and sends the draft for approval all over again.

Meanwhile, the data team works on building a mailing list on a spreadsheet, and it takes around a week to complete this task because, usually, regarding direct mail campaign, the mailing list is in bulk. Then the team needs to send the mailing list to the project managers for approval.

Then, the team prepares the approved samples in bulk, get them printed, and send the mail pieces in batches to different mailing addresses from the post office, and it takes its own time depending on the postal codes.

ROI calculation of the campaign is a complex process that requires measuring different parameters like cost per acquisition, customer lifetime value, and other factors, then evaluating profit and loss with a specific formula adds up to the time.
But with PostGrid, you get an all-in-one direct mail automation solution to streamline and simplify your offline communication and garner a qualified audience, increasing the probability of higher return on investment.
Using the right strategies and going one step ahead of the traditional can help you outperform your competitors.
PostGrid – a single API for all your direct mail marketing campaigns – aims at helping your business grow with automation technology.
Incorporating PostGrid's direct mail solutions will help your marketing campaign deliver desirable results guaranteeing a higher response rate with optimal resource utilization strategically and cost-effectively.
Versatile templates
At PostGrid, you can leverage a wide range of premium quality marketing and transactional collaterals like statements, invoices, letters, postcards, brochures, flyers, and more.
Premium Quality Service
Easy customization and targeting, quality print and mail through USPS or Canada Postal service, while keeping the data security and safety in consideration by following HIPAA and PIPEDA protocols. 
Data Cleansing
PostGrid's automated and all-in-one printing and mailing solution will sort, clean, and verify your data for gaps and misinformation. Data cleansing significantly minimizes the possibility of errors, return, or lost mail, which further prevents the wastage of resources and time.
Build a mailing list:
With API and CRM integration, we'll fetch the addresses directly into your system and the direct mail campaign to enable sending direct mail with a click. 
Cost-effective
While direct mail solution costs depend on numerous factors, being closely associated with the USPS and Canada Post Service, we ensure you cost-effective bulk mailing at discounted prices without compromising the data's quality and integrity.
No minimum requirement
We have a no minimum requirement policy, which means we are ready to serve you with our direct mail solution, on-demand, whether it is for a single piece or bulk direct mail.
Save time and Money
Whether you're getting the direct mail work done in-house or by an agency, it'll cost you a substantial amount of time and money. Incorporate PostGrid's automated direct mail solutions to get the work done in a click, with assured quality. Invest the time and money thus saved in developing and executing profitable strategies. 
Save Resource
Capital, human resources, and other supplies are crucial for the business's growth and development and hence should be utilized strategically. With PostGrid's automated direct mailing solution, the entire operation will be streamlined, simplified, and narrowed down to a few clicks. Using it, you can customize the mail, choose the address from the built list and send the mail to the intended prospect, client, or customer.
Ready to Get Started?
Start transforming and automating your offline communications with PostGrid
SIGN UP
REQUEST A DEMO